Eye of Horus Slot
Last Updated: 20-03-2023 12:29
When it comes to popular slot game themes, it is no exaggeration on our part to say that ancient Egypt is one of the most popular – you will never struggle to find a slot game with an Egyptian theme if that is what you feel like playing at any stage. One of the most popular Egytian-themed online slots is Eye of Horus by Blueprint Gaming, and in this Eye of Horus slot review, we have taken it upon ourselves to tell you everything that you need to know about this really good slot game.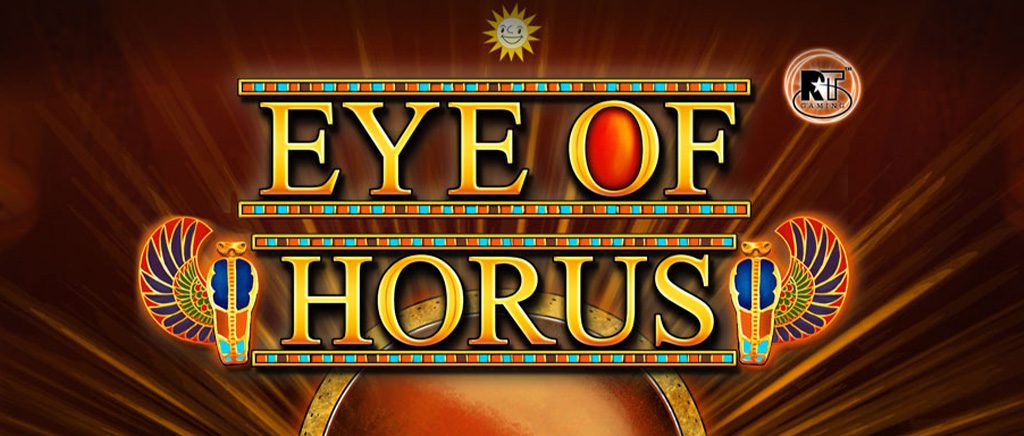 Eye of Horus Slot Details
| | | | | | | | | | | |
| --- | --- | --- | --- | --- | --- | --- | --- | --- | --- | --- |
| Software | Release Date | Game type | Paylines | Reels | RTP | Volatility | Hit Ratio % | Minimum Bet | Maximum Bet | Jackpot |
| Blueprint Gaming | September 2019 | Online slot | 10 | 5 | 96.31% | Medium | N/A | 00.10 | 100.00 | 500x Stake |
Eye of Horus Review
In our online casino library you will be able to find plenty of Egyptian-themed slot games, but Eye of Horus by Blueprint Gaming is one that we really recommend you play if you are into slots with an Egyptian theme. This slot first hit the online slot scene back in 2016 and it is still popular six years later, which is a huge indication as to just how good it is. In fact, the Eye of Horus online slot was such a hit that there are a number of other slots spawned from it. So, without any further ado, let us now provide you will all the useful information that you should know about this Eye of Horus slot game.
Game Design
When it comes to the visuals of this Eye of Horus slot machine, there is a rather minimalist but clean look. As you can tell from the name, it is based off the Eye of Horus which is the symbol of royal power, protection, and good health in ancient Egypt. The five reels and three rows of this online slot are set in front of two pillars in a pyramid, so there really is no mistaking the fact that you have been transported to Egypt.
However, if you are expecting some sort of Egyptian-themed music to help with the authenticity, then you will be pretty disappointed since the music that is on offer when you spin the reels is something that you would expect to hear at some sort of fun fair and not when playing a slot with an Egyptian theme. Having said that, we actually like the music, but we understand that there will be plenty of slot players who will opt to mute it after a little while.
Gameplay
When you sit down and play Eye of Horus slot, your main aim, like it will be when playing the majority of other slots available at Betiton™ will be to try and match at least three identical symbols on one of the 10 paylines that are available. There are some slots that will payout when players land two identical symbols on a payline, but this Eye of Horus slot game does not fit into that category.
Slot games have become very popular and one of the reasons why this is the case is because they are simple to play. You will be glad to hear that this Blueprint Gaming slot is no exception to this rule. The buttons to increase or decrease your wager can be found on the left of the reels, and after you are content with your chosen stake, you can click the green spin button to set the reels in motion.
Most slot games now have an autoplay function, and this game slots into that category. If you want to have the reels spin automatically for you, then click on the two arrows that can be found in the bottom right of the screen and the different autoplay options will pop up for you. When you activate a bonus feature, the autoplay option will automatically be switched off.
Eye of Horus Symbols
If you have played plenty of slot games in the past, then you will already know that not all symbols in a game are worth the same value. If this happened to be the case, then things would become pretty boring really quickly to say the least. So, with this in mind, we are now going to provide you with a table that highlights the different values of the symbols that you will come across in the Eye of Horus slot game.
Although we are giving you all of the information that we feel you need to know about this quality slot, we still recommend that you have a look at the paytable before you jump in and start playing this game with real money. The paytable is easy enough to find – just click on the three bars located in the bottom left of the screen and then click on the icon that looks like a table.
| | |
| --- | --- |
| Symbols | Value 3, 4, or 5 Identical Symbols |
| Eye of Horus | 10x, 25x, or 50x your stake |
| Anubis | 5x, 20x, or 40x your stake |
| Eagle | 2x, 12.5x, or 30x your stake |
| Scarab | 2x, 10x, or 25x your stake |
| Ankhs | 1x, 5x, or 20x your stake |
| Flowers | 1x, 5x, or 20x your stake |
| Ace | 0.5x, 2x, or 10x your stake |
| King | 0.5x, 2x, or 10x your stake |
| Queen | 0.5x, 2x, or 10x your stake |
| Jack | 0.5x, 2x, or 10x your stake |
So, as you can see from looking at the table above, the Eye of Horus symbol is the highest paying symbol in this slot, while the playing cards are the lowest paying symbols – although, they pay out a lot more than they do in many other slot games. This game, like the majority of slots, also has wild and scatter symbols, but we speak about those later on in this review, so will not mention those just yet.
RTP and Volatility
When you are considering playing a new slot that you have never played before, you should make sure that you know what the Return to Player rate, also called the RTP, of the slot is and the type of volatility that it has.
If you are new to online slot games, then you probably are unaware as to what the RTP indicates. If so, then do not worry since we are going to briefly explain it to you now. The RTP of a game is a theoretical number that highlights how much a slot game will pay out over a time frame. However, what you need to always remember is that the RTP is just a theoretical number that is based off thousands of spins, so you could well end up having a different kind of experience. The Eye of Horus slot RTP stands at 96.31%, which suggests that for every €100 that is spent on it, it will pay back €96.31 after hundreds of thousands of spins. In our opinion, this is a very reasonable RTP for a slot game.
So, what about the volatility? Well, the volatility of a slot is something that indicates that type of wins that you can land if luck is with you. For example, a slot game that is said to have a high volatility will not pay out many small wins, but when a win does occur, it should be a nice sized one that makes up for the long string of fruitless spins. If, however, a slot is said to have a low volatility, it means that smaller wins will be more frequent than the bigger wins. This slot game from Blueprint Gaming has a medium volatility so falls somewhere in between.
Bet Limits
Obviously, when it comes to money that we can afford to spend on slot games, we do not all have the same amount, which is why it is vital that software developers create games that are suitable for a variety of budgets. If a software developer creates a slot game that only caters to those who can afford to put down huge bets, then they will isolate a large chunk of potential players and will lose plenty of money.
This slot game comes with a minimum stake per spin of €0.10 and a maximum wager per spin of €100.00, so we feel that it is fair to say that it is one of those online slots that caters to people of varying budgets.
What Is the Eye of Horus Jackpot (Max Win)?
Nowadays, the slots world is really competitive, so slot games have to stick out like the proverbial sore thumb if they want to have plenty of success. One of the best ways to make sure that a slot stands outs is to give players the chance to win some big cash prizes.
When you are playing the Eye of Horus, the most that you can win is 500x your stake, which means that if you are playing with the maximum stake of €100.00, the most you can walk away with is €50,000. Now, we must stress that this is not the biggest jackpot out there, but we still think that it is nothing to turn your nose up at.
How to Play Eye of Horus Slot Online
In order to have a good number of spins on this reel you just need a couple of euros and some luck. Below we have outlined just how it is that you can go about trying out this slot from Blueprint Gaming:
Decide on the stake by toggling the button on the left of the screen
Hit the "Spin" button and the reels will be set in motion
The reels will then stop and if you get three or more identical symbols from left to right, you will be a winner. Any wins that you are lucky enough to land will be added to your account
N.B. There are some slot games out there that come with an option that allows you to speed up the reels so that you can save on time and get some more spins in during your session, but there is no such option with this slot.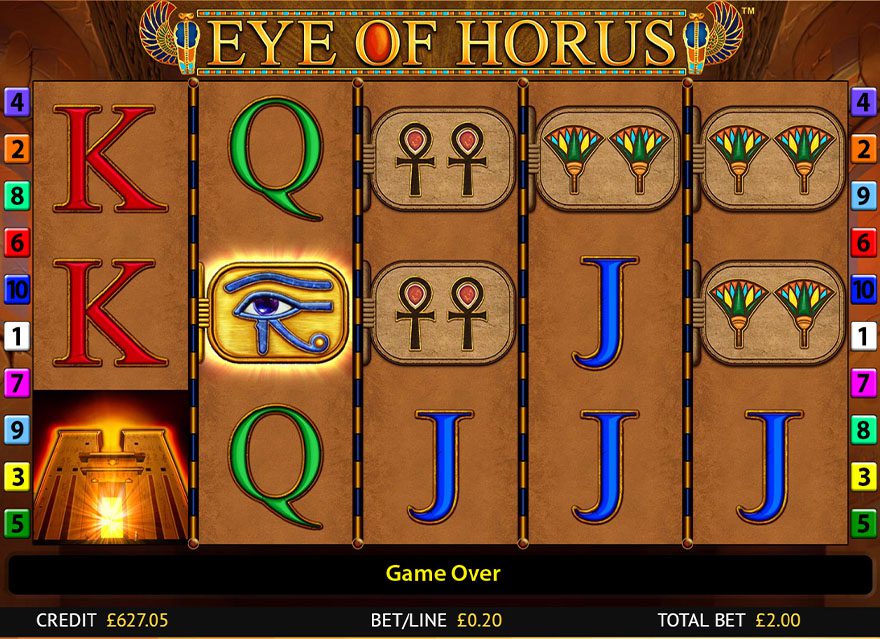 Playing Eye of Horus on Mobile
Nowadays, it is fair to say that mobile gambling is all the rage because people love having the option of playing their favourite games wherever they like, and all of the best software developers know this, which is why they have to ensure that their games are always compatible with a variety of mobile devices. Therefore, if you are a gambler that likes to play slots on mobile devices, you will be happy to find out that this Eye of Horus slot can be played wherever you are.
Bonuses in Eye of Horus
The slot industry is really competitive, so software creators have to add different bonuses features to their slots so that they have a good chance of doing well. A slot that has no bonuses is one that will bore players pretty quickly and soon disappear from the gambling scene for good. The Eye of Horus slot comes with some good bonuses features and we will take a closer look at these now for you.
Wilds
The majority of slots now have a wild symbol, which is a symbol that can replace all other symbols in the reel apart from the scatter. Horus, the Egyptian god with a bird head, is the wild symbol in this slot and when he lands on reels two, three, or four, he will expand to turn the whole reel wild. During any spin, you can have a maximum of three wild reels, which can dramatically increase your chances of landing some winnings.
Respins
If you think that respins and free spins are synonyms, then get that idea out of your head right away because this is not the case. When it comes to respins, reels will be frozen and the other reels will be spun again to see if you are lucky enough to get some winning combinations. With free spins, on the other hand, all the reels are spun at once at no cost to you. Respins can be activated when you land certain symbols on the five reels, but you do not have to worry about such features when playing Eye of Horus since there is no option of a respin.
Multipliers
Everyone loves having the chance to win some extra cash when gambling, which is the reason why you will not come across any type of slot player that does not enjoy seeing multipliers in the slots that they decide to play. Multipliers will multiply your winnings by their value, so if you win €20 when you have a 5x multiplier in play, you will get a total of €100 added to your balance.
Multipliers are very common, but it does not mean that all slots have some, and Eye of Horus happens to be a slot that does not have multipliers. However, this definitely should not be a dealbreaker since the next bonus feature helps to make up for that lack.
Free Spins in Eye of Horus
In order to enter the free spins bonus feature of this slot game, you need to land three, four, or five of the scatter symbols on the reels. The scatter symbol is the entrance to a pyramid and if you manage to land three, four, or five anywhere on the reels during one spin, you will also receive 2x, 20x, or 50x your wager respectively.
When this bonus feature is activated, you will receive 12 free spins, and the expanding wilds that we mentioned above will be in play too. However, the wild symbol develops some additional properties during this bonus feature. Every time that a wild symbol lands, it upgrades one of the symbols. Th first wild that you land will transform the fan symbols on the reels to the ankh crosses, while the second wild will transform the ankh symbols to scarab beetles. This will keep going all the way up to the Eye of Horus symbol, which is the slots most lucrative symbol.
To add to the above, wilds can also extra bonus spins during this feature. If you land one, two, or three of them, you will receive one, three, or five extra spins, which means that if your luck is with you, you can get an awful lot of free spins during this feature.
Eye of Horus Pros and Cons
There is nothing out there that is absolutely perfect, so we are now going to provide you with a table that highlights some of the pros and cons of this Eye of Horus slot.
| | |
| --- | --- |
| Pros | Cons |
| Quality bonus features | Jackpot could be higher |
| Very reasonable RTP | N/A |
| Can be played on mobile | N/A |
| Suits all budgets | N/A |
Play The Eye of Horus on Betiton™
If you would like to try out this slot by Blueprint Gaming, then you can find it in our games library alongside many other top slots that you should try out. If you are not too sure as to whether this is a game that you will like, then you will be glad to hear that we even have an Eye of Horus slot demo available so that you can test out the game for free before you go ahead and use real money. We know it can be really frustrating to spend money on a game that you do not like, so Eye of Horus slot demo play eliminates this scenario.
Also, we are aware that plenty of gamblers enjoy doing some mobile gambling, which is why we have ensured that this game is available for our customers to play wherever they are. Alongside the many slots at Betiton, you will also find a good variety of table games such as roulette, blackjack, and baccarat, and we also have a quality live casino that you can take full advantage of. Additionally, if you love to bet on different sports, you will be ecstatic to hear that we have a great sportsbook where you can find plenty of markets and competitive odds.
Aside from all of this, we also provide our players with top-quality banking options like PayPal and VISA, and we also offer a variety of bonuses and promos that you can make use of. If you encounter any problems, speak to one of our friendly and professional customer care agents and they will do all they can to help you.
The Eye of Horus Review Conclusion
Eye of Horus
Slot
"It might not have the shiny bells and whistles of other Egyptian-themed slot games, but we feel that the simple formula used in this Eye of Horus slot works really well. When it comes to the visuals, it is pleasing on the eye, regardless of whether you are playing on a desktop or mobile device. The bonus features are great too and can deliver some decent wins if Lady Luck is on your side. This is one of those slots that is going to withstand the test of time.
"Our overall rating for this slot game is 4.5/5."
– Betiton
Related Slots
Eye of Horus Megaways by Blueprint Gaming
Eye of Horus: Fortune Play by Blueprint Gaming
Eye of Horus: Golden Tablet by Blueprint Gaming
Eye of Dead by Blueprint Gaming
Other Games by Blueprint Gaming at Betiton™
Fishin' Frenzy
Fishin' Frenzy: The Big Catch
Ted Megaways
Rolling in Gold
Genie Jackpots Megaways
Frequently Asked Questions About Eye of Horus Slot
What is the RTP of Eye of Horus slot?
The Eye of Horus slot comes with an RTP of 96.31%, which is a very reasonable RTP in our opinion.
What is the maximum win in Eye of Horus slot?
The most that you can win is 500x your stake, which is not the biggest jackpot out there by a long shot. However, it still not something to turn your nose up at.
Can I earn free spins in the Eye of Horus slot?
Yes, if you land three scatter symbols on the reels than you will earn 12 bonus spins. Whenever a wild lands on the reels, it will upgrade a symbol to a higher value one and will also provide you with some extra spins.
Can I play Eye of Horus in demo mode?
Yes, you can play an Eye of Horus demo slot on Eye of Horus slot sites such as ours. However, please keep in mind that when you play a demo edition of a slot you cannot win any real money.