Jack and the Beanstalk Slot
Last Updated: 20-03-2023 12:23
Everybody probably knows the famous fairy tale known as Jack and the Beanstalk. Plagued by poverty, Jack is forced to sell the family cow; instead, however, he trades it for magical beans that sprout into a giant beanstalk. At the top is the legendary castle in the sky, where the greedy giant that resides in it keeps riches untold… Fortunately, you don't have to sell the family cow to be able to play this slot! Jack and the Beanstalk slot is a 5-reel, 3-row slot developed and released by NetEnt in 2011. Despite being released so long ago, it still feels rather fresh, especially with its animated symbols. Other than that, it has quite a few special features which make it rather fun!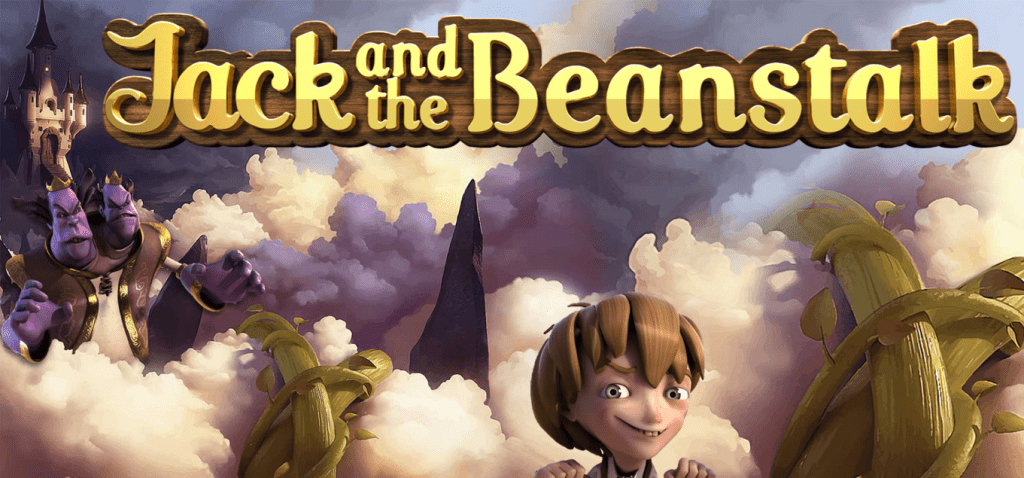 "Destitute and starving, Jack's only hope is to steal from the greedy giant at the top of giant beanstalk. Will he manage? Or will he be another of the giant's meals?"
| | | | | | |
| --- | --- | --- | --- | --- | --- |
| Slot Name | Type | Provider | Available on Mobile | Available on Tablet | Available on Desktop |
| Jack and the Beanstalk | Online Slot | NetEnt | Yes | Yes | Yes |
Jack and the Beanstalk Slot Pros & Cons
This slot has plenty of things that make it enjoyable, but there are others which somewhat detract from its appeal. Therefore, a small table of pros and cons has been compiled and can be viewed here:
Pros
Cons
Plenty of Special Features
Wins are Infrequent
Walking Wild Feature Gives Respins
Scatters Only Gives 10 Extra Spins
Extra Spins Round
Fee, Fi, Fo, Fum, I Smell Extra Spins Will Come: Special Features
Walking Wild
Scatter Symbols
Extra Spins
Treasure Collection
2 Stacked Money Bags
3 Stacked Golden Hens
Expanding Golden Harps
Whilst this slot may be about Jack's finally becoming wealthy from stealing from the cruel and greedy giant, that doesn't mean that players shouldn't have a rich amount of special features as well! Thankfully, this slot happily provides a good amount of fairly fun features.
The first of which is the slot's wild symbol, which in this case is a Walking Wild. What that means is that after the wild lands, it will start "walking" towards the left of the slot, eventually going off the reels; it moves reel by reel, giving the player a respin every time it moves!
This makes for some potentially big wins, even more so because of the fact that all winning combinations involving the Walking Wild pay triple. After that, there's the slot's scatter symbols, which is the chest holding the magic beans. Landing enough scatters activates the bonus round!
The bonus round for Jack and the Beanstalk is the extra spins round, which is great as you don't need to wager any more whilst extra spins play. Moreover, during the bonus round, a handful of special features can be unlocked through the Treasure Collection feature.
During the extra spins round, a key symbol starts appearing on the fifth reel of the slot; Jack starts collecting these key symbols, and once a certain number of these symbols has been collected, a new feature is unlocked. The table below provides all the necessary information about these features:
| | |
| --- | --- |
| No. of Keys | Feature Name |
| 3 | 2 Stacked Money Bags |
| 6 | 3 Stacked Golden Hens |
| 9 | Expanding Golden Harps |
The 2 Stacked Money Bags feature changes the Walking Wild into 2 money bag symbols that are stacked on top of each other. The 3 Stacked Golden Hens feature does the same thing, except that they are golden hen symbols instead and they are 3 symbols stacked on top of each other.
The final special feature of the slot, and final feature that can be unlocked by the Treasure Collection feature is the Expanding Golden Harps feature. This feature turns the wild into an expanding symbol (that is, it covers an entire reel) with the golden harp symbol on it!
Bonus Round
As we already said in the previous section, the bonus round for this game is the extra spins round, which is activated when players land at least 3 scatter symbols. A table with all the necessary information regarding the scatter symbols has been provided below:
| | | |
| --- | --- | --- |
| No. of Symbols | Payout | Extra Spins |
| 3 | n/a | 10 |
| 4 | n/a | 10 |
| 5 | n/a | 10 |
Scatters still fall during extra spins, which means that you could potentially earn more extra spins that way. In fact, if you land at least another 3 scatters during the extra spins round, you'll be awarded with a further 5 extra spins!
A Classic Fairy Tail Meets The Slots: Theme
The theme of this slot is the classic fairy tale of Jack and the Beanstalk. One of the most notable features of the fairy tale is the giant's magnificent treasure, which actually makes an appearance in the slot. Players can thus be glad that the legendary treasure can become part of their bankroll!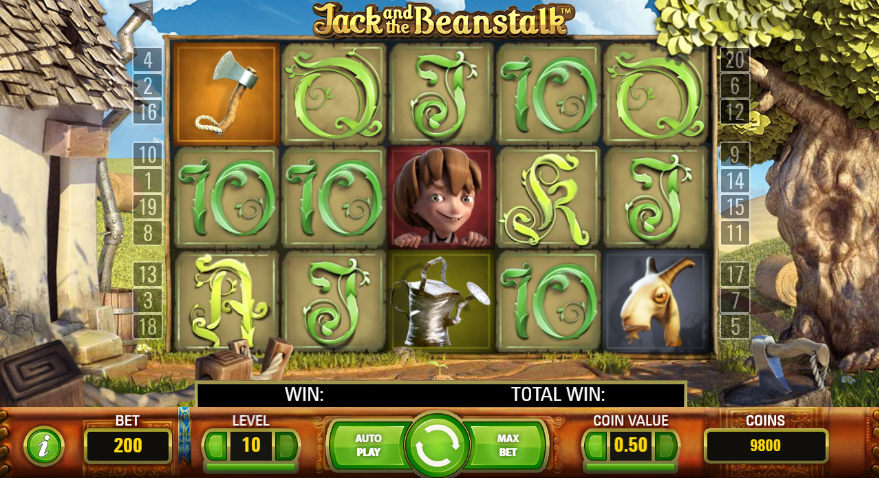 RTP
The RTP (return-to-player) rate for Jack and the Beanstalk is 96.28%; however, this percentage is solely theoretical, so your experience of the slot may differ. On the other hand, the volatility of the slot is high, meaning that wins are somewhat hard to come by, but they're generally rather large.
Limits
Whilst Jack may have found untold treasure in the giant's tower in the clouds, not every player has three magical beans simply lying around. Which is exactly why online slots should offer different betting limits; in fact, Jack and the Beanstalk accepts a minimum bet of €0.20 and allows a maximum bet of €100.
How to Play Jack and the Beanstalk Slot
Jack must have faced plenty of difficulty when scaling the giant beanstalk; thankfully, however, playing this slot is an easy matter of simply clicking a button! All you have to do is click the spin button, watch the reels spin, and hope you land a winning combination!
Speaking of which, landing a winning combination is also pretty simple: if at least 3 symbols land on consecutive reels and on one of the slot's 20 paylines, then you'll receive a win! To see just what you'll win according to which and how many symbols you get, consult the table below:
| | | | | | | | | | | |
| --- | --- | --- | --- | --- | --- | --- | --- | --- | --- | --- |
| No. of Symbols | 10 | J | Q | K | A | Watering Can | Hatchet | Goat | Two-Headed Giant | Jack |
| 3 | 3 | 4 | 5 | 5 | 6 | 8 | 10 | 10 | 15 | 20 |
| 4 | 10 | 15 | 20 | 20 | 25 | 30 | 50 | 50 | 100 | 200 |
| 5 | 30 | 50 | 75 | 75 | 100 | 125 | 250 | 250 | 750 | 1000 |
Players can easily tell that the more symbols land, the bigger the payoff! Moreover, the more paylines that are covered by winning combinations, the bigger the win. If you prefer a more fast-paced game, then you can easily turn on quick spin from the slot's settings.
This makes the reels spin faster, giving you a faster overall gaming experience, possibly making for a more exhilarating game. Finally, if you're annoyed about having to click for every spin, then you can turn on auto-play which makes the reels spin on their own for a number of times.
Playing Jack and the Beanstalk Slot on Mobile
Life sometimes has a way of holding us back from the things we enjoy doing, such as relaxing to a great slot. If you constantly find yourself on the go, then mobile casino is probably the way to go. Thankfully for you, our online casino has been entirely optimised for mobile devices; other than that, NetEnt developed this slot to be compatible with mobile devices. This means that playing on the go is totally possibly and is a rather easy process! 
Playing Jack and the Beanstalk on Betiton™
Whilst we can't provide you with three magic beans that will take you to a castle in the sky full of treasure, we can, however, provide you with this slot—which is just as good, if not better! Moreover, you can find plenty of more games available in our game library.
You can find 100s of slots in our game lobby, as well as an extensive amount of sports markets, table games, and live casino games. Moreover, we provide loads of trustworthy payment methods, a decent amount of promotions, and excellent customer service!
Recap Table
| | | | |
| --- | --- | --- | --- |
| RTP | Volatility | Min & Max Bet | Paylines |
| 96.28% | HIGH | €0.20-100 | 20 |
Frequently Asked Questions About Jack and the Beanstalk Slot
Will I be able to win extra spins on Jack and the Beanstalk?
Absolutely, as the bonus round for Jack and the Beanstalk is the extra spins round. However, you'll first need to land at least 3 scatter symbols to be able to play the extra spins round.
How do I win on the Jack and the Beanstalk slot?
Winning on this game is rather easy as all you need to do is click the spin button and land at least 3 of the same symbol in one of the 20 paylines of the slot. The more symbols land in a winning combination and the more paylines they land in, the bigger the wins!
Is the Jack and the Beanstalk slot game available as a demo version?
Yes, of course! All of our games on Betiton™'s online casino are available for demo play so players can try out our games without having to wager. All you need to do is click "DEMO" on the slot's thumbnail which will direct to the slot's demo version.