Ancient Fortunes: Zeus
Last Updated: 29-05-2023 10:06
Ancient Fortunes: Zeus is an online slot by Microgaming and Triple Edge Studios that takes you all the way to the peak of Mount Olympus in Ancient Greece, where the home of the gods lies. The greatest of the gods, Zeus, and the rest of the pantheon are waiting for you to play…
Microgaming and Triple Edge Studios released Ancient Fortunes: Zeus in 2019. It's a 5 reel and 3 row slot with 10 bothway paylines, so it's a fairly standard slot; however, its special features make this slot a cut above the rest. If you'd like to know more, read our slot review down below.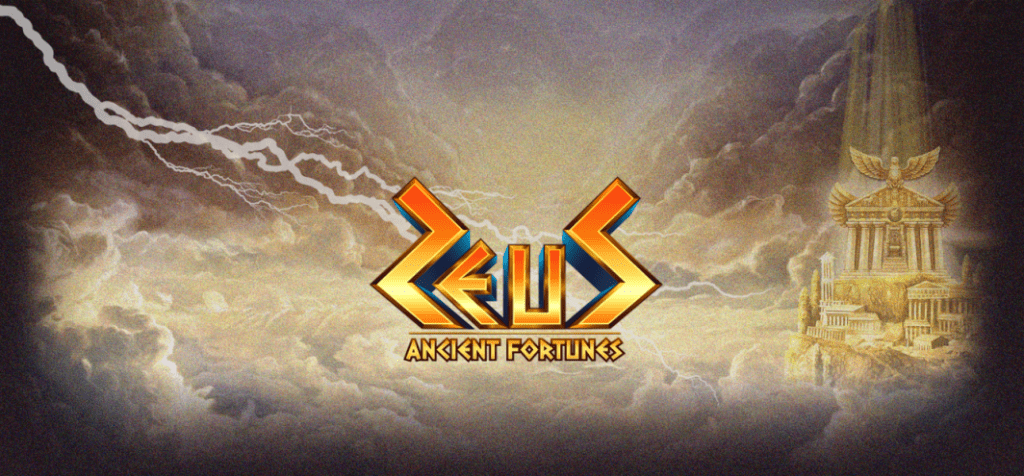 "The clouds parted and revealed a strange contraption; thereafter, Zeus spoke unto his heavenly council: 'look upon what I have created for the mortals.' And all of Olympus thought it magnificent."
| | | | | | |
| --- | --- | --- | --- | --- | --- |
| Slot Name | Type | Provider | Available on Mobile | Available on Tablet | Available on Desktop |
| Ancient Fortunes: Zeus | Online Slot | Triple Edge Studios & Microgaming | Yes | Yes | Yes |
Pros & Cons
Funnily enough, even a slot made by the Grecian Gods themselves isn't perfect! But don't worry, this slot is still plenty of fun. However, here's a table with a few pros and cons:
Pros
Cons
Extra Spins
Low Amount of Paylines
Win Multiplier
Wins can prove to be infrequent and Low
Rolling Reels Feature
Bothway Paylines
A Slot of Heavenly Proportions: Ancient Fortunes: Zeus Special Features
Wild Symbol
Rolling Reels
Bothway Paylines
Extra Spins
Win Multiplier
Of course, it wouldn't be a slot made by the gods if it didn't have special features, right?! Thankfully, this slot has a good handful of special features that serve to keep it entertaining, even after many spins. This first of which is the wild symbol, which is Zeus himself!
Yep, Zeus himself makes an appearance on the reels; and thankfully too, as his symbol substitutes for all others symbols on the reels! And, if you manage to land a win, you'll realise what the second special feature is: the so-called Rolling Reels. Every time a winning combination lands on the reels, the winning symbols explode and new symbols fall from the sky to replace them.
This is essentially a respin and could grant you multiple wins with only one wager. The third special feature is the fact that Ancient Fortunes: Zeus' paylines work both ways! What that means is that the paylines are calculated both from left to right, and from right to left. So, even if the slot only offers 10 paylines, these paylines are effective from both sides of the slot, increasing the chance of landing wins!
The next special feature is the extra spins round. Extra spins are spins which don't require any bets to play, so you could be winning without having to place any more bets for a while. To be able to play the extra spins round, you're going to need to land at least 3 extra spins symbols, which are golden bolts of lightning.
Finally, there's the slot's win multiplier, which is the cherry on top of the Olympian cake. Essentially, after every win, a multiplier is applied to every other spin after the first one; the multiplier keeps increasing until its reaches its maximum, which is a total of x7.
Bonus Rounds
The bonus round for this slot is the extra spins round, which could land you some nice wins without having to wager anything for them! Isn't that great? Not only that, but Ancient Fortunes: Zeus' win multiplier is tripled for the extra spins rounds, up to a maximum of x21, possibly giving you massive wins.
A table with all the information related to the free spins symbols has been compiled and provided below:
| | | |
| --- | --- | --- |
| No. of Symbols | Payout | Extra Spins |
| 3 | n/a | 10 |
| 4 | n/a | 15 |
| 5 | n/a | 20 |
The Greatest of Grecian Gods: Ancient Fortunes: Zeus Theme
The slot takes place in the middle of Mount Olympus, the home of the gods themselves. The rest of the slot does what it can to drive the theme home, and it quite easily manages to do so! Whether it's the casual lightning strikes, or the golden Temple of Zeus that appears every time the reels spin, this slot feels like it's taking place in beyond the clouds.
Not only that, but a handful of the gods themselves appear as symbols—or, rather, elaborate stone carvings of them. Those familiar with Greek mythology would easily be able to recognise these figures: Hermes, herald of the gods and the guide of souls; Dionysus, god of wine and revelry; Poseidon, god of seas and storms; and Ares, the god of brutal war.
Finally, not only does Zeus himself appear on the reels as the wild symbol, but he also appears twice during play: every time you land a big win, when he congratulates you on your success; and when you manage to achieve the extra spins round as he splits open the slot, grants you the extra spins, and transports you to a different room full of treasure!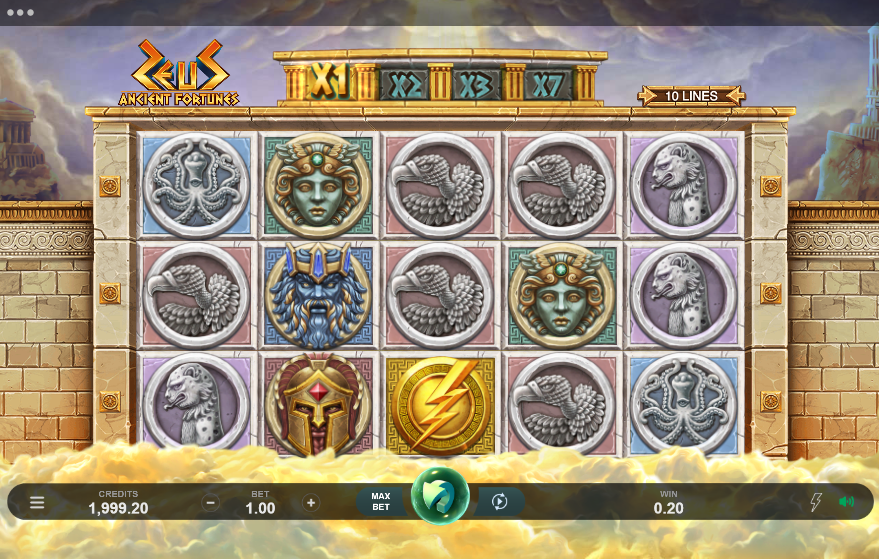 RTP
The RTP (return-to-player) rate of Ancient Fortunes: Zeus is 96.02%. On the other hand, the volatility of the slot is medium, which occupies a nice middle ground between frequent but low wins, and rare but often big wins.
Limits
Players come in all shapes and sizes, and they also come with different sizes of wallets; which is why online slots should be able to accommodate all of these different players. Thankfully, Ancient Fortunes: Zeus has a pretty decent range: €0.10 is its minimum bet, whilst its maximum bet is €140.
How to Play Ancient Fortunes: Zeus
Just because the slot takes place in the realm of the gods, doesn't mean that you have to be supernatural to play it! Thankfully, Ancient Fortunes: Zeus is rather simple to play: all you need to do is click "SPIN" and the slot pretty much does the work for you.
However, if you want to play whilst doing other things or you just like watching the slots spin on their own, then that's no problem as you can set the slot to autoplay for a number of spins, between 10-100 spins. However you like to play, this slot will surely accommodate for your play-style.
It wouldn't be a slot made by the gods for the gods if it didn't offer some sort of compensation, right? And that compensation would be its paying symbols, of course! A table that details all of the paying symbols and their values according to how many symbols you land has been provided below:
| | | | | | | | | |
| --- | --- | --- | --- | --- | --- | --- | --- | --- |
| No. of Symbols | Snakes | Panther | Kraken | Vulture | Hermes | Dionysus | Poseidon | Ares |
| 3 | x0.2 | x0.3 | x0.5 | x0.7 | x1.2 | x1.2 | x1.5 | x3 |
| 4 | x0.8 | x1 | x1.2 | x1.2 | x3.5 | x5 | x6 | x8 |
| 5 | x2.5 | x3.5 | x4 | x5 | x7.5 | x12.50 | x30 | x62.50 |
Playing Ancient Fortunes: Zeus on Mobile
Do you constantly find yourself on the go and you just can't seem to catch a break? Or do you seem to constantly find yourself on your phone, hardly ever using your computer? Then, thankfully for you, Ancient Fortunes: Zeus has been developed to be completely compatible with mobile devices. Moreover, our platform at Betiton™ has been optimised to be both accessible and usable by mobile devices.
Playing Ancient Fortunes: Zeus on Betiton™
We wouldn't want to incur the wrath of Zeus and the rest of the gods, so we did what we could to include this stupendous slot on our platform at Betiton™. And if you don't want to incur the wrath of Zeus as well (which we highly suggest you don't), then you should definitely try out this slot at Betiton™ online casino!
But apart from appeasing Zeus and the other gods, playing on Betiton™ means that you'll get to benefit from our fantastic welcome bonus; not only that, but we have a handful of other promotions that any player would love to have, including our loyalty programme that benefits all players.
Moreover, our platform at Betiton™ is designed to provide players with everything they'll ever need: we have a sportsbook for players who love betting on sports, and table games and live casino. Finally, we heard that there are also bingo halls in the pipeline!
Recap Table
| | | | |
| --- | --- | --- | --- |
| RTP | Volatility | Min & Max Bet | Paylines |
| 96.02% | MEDIUM | €0.10-140 | 10 |
FAQs
How to play the Ancient Fortunes: Zeus slot machine?
That's an easy one to answer: simply click on the "SPIN" button, and the slot practically plays itself. Consult our "How to Play" section for more information.
Can I play the Ancient Fortunes: Zeus slot for free?
Every game in Betiton™'s library is available to be played without having to wager anything; simply click on "DEMO" on the game's thumbnail to access the demo version of the slot.
Is the Ancient Fortunes: Zeus slot available for Android, iPad, iPhone, and other mobile devices?
Yes, absolutely! Not only is Ancient Fortunes: Zeus compatible with mobile devices but our platform at Betiton™ has been fully optimised to support all mobile devices.