Bonanza Slot
Last Updated: 20-03-2023 12:24
What could possibly be more exciting than stumbling on a lode of gold? Probably finding a lot of money lying around, which is almost the same thing. Big Time Gaming (BTG) knows the excitement associated with both of these scenarios and so they decided to merge them into one game: Bonanza slot.
Released in 2016, Bonanza is a highly innovative slot developed by BTG; in fact, BTG revolutionised the slot industry by pioneering their MegawaysTM mechanic. Megaways proved to be so immensely popular that other game developers teamed up with BTG to provide their very own Megaways games.
Fun fact: "bonanza" is originally a Spanish word that meant "smooth seas," but playing this slot feels more like you're on a boat in the middle of a storm being rocked to no end! And that's because this slot is jam-packed with exhilaration, adrenaline, and potential big wins! So, let's see what makes this slot so popular.

"Came down with gold fever? Our doctors recommend a healthy dosage of Bonanza!"
| | | | | | |
| --- | --- | --- | --- | --- | --- |
| Slot Name | Type | Provider | Available on Mobile | Available on Tablet | Available on Desktop |
| Bonanza | Megaways Slot | Big Time Gaming | Yes | Yes | Yes |
Bonanza Slot Pros & Cons
There's no such thing as a perfect slot, but there are online slots which offer different advantages over the rest, but also come with their own drawbacks. Here's a table of what we think the pros and cons of Bonanza are:
Pros
Cons
Many ways to land wins
Game is rather complicated
Wins can be really big
High volatility means wins are infrequent
Reactions feature gives respins
Many winning combinations pay low
Plenty of special features
Randomness makes the slot unpredictable and fun
A Rush of Gold to the Head: Bonanza Slot's Special Features
Carts Feature
Wild Symbol
Extra Spin Scatter
Reaction Feature
Scatter Symbols
Extra Spins
Infinite Multiplier
This slot has plenty of special features that ensure that it doesn't stop being entertaining, the first of which is the carts on top of the slot. Each of the carts bear a symbol, adding it to the reel below it; effectively, reels 2, 3, 4, and 5 have an additional symbol thanks to these carts. Moreover, the carts also bear special symbols.
These are the wild symbol, and the extra spin scatter—which is available only during the bonus rounds. The second feature is the reaction feature: the symbols of every winning combination are destroyed and new symbols fall from the top of the slot and take their place, possibly giving players more winning combinations for one wager.
Thirdly, there's Bonanza's scatter symbols, which, very appropriately, are golden symbols that spell out G-O-L-D. If you manage to land all 4 scatter symbols, you're in for a wild ride as that's when the bonus round begins; and by "bonus round," we mean the extra spins round.
Apart from the G-O-L-D scatter symbols, Bonanza also has a +5 scatter symbol, which increases the amount of extra spins you receive from the regular scatter symbols. Anyway, landing the 4 scatter symbols grants you 12 extra spins, and the extra spins round begins.
This bonus game is exciting not only because of the extra spins, but also because there's an infinite multiplier that activates in the extra spins round! After every reaction, the multiplier starts increasing by one (so, from x2 to x3 and so on), and keeps increasing indefinitely! Naturally, this can potentially translate to some massive wins.
Bonanza's Bonus Round
As we said in the previous section, landing the 4 scatter symbols unlock the Extra Spins bonus round, which is Bonanza's bonus round. Every other scatter symbol after that is a +5 scatter symbol. Everything you need to know about the scatter symbols has been provided in the table below:
| | | |
| --- | --- | --- |
| No. of Symbols | Payout | Extra Spins |
| 4 | n/a | 12 |
| 4+ | n/a | +5 |
During the extra spins bonus round, the extra spin scatter symbol will appear in the carts above the reels. If a certain number of these extra spin scatter symbols appear, you'll be award an amount of extra extra spins. The table below has been provided with all the information about these symbols:
| | | |
| --- | --- | --- |
| No. of Symbols | Payout | Extra Spins |
| 3 | n/a | 5 |
| 4 | n/a | 10 |
A Miner's Dream: Bonanza Slot's Theme
Bonanza looks wildly different to any other slots that you might be used to; in fact, throw everything that you know about slots out of the window when you come to play this game. This is something we'll go into far more detail in our "How to Play" section, but already we can see that the game is unlike most slots we know.
The slot transports players to what seems to be the side of a quarry, with the slot itself being embedded within the rocks. The rest of the scene is fairly serene: there's flowers and grass all over the quarry; a water mill is slowly spinning with water on the right side of the slot; and there's a quaint shack at the bottom.
At the top of the slot, you can see an open section of the mine's rail system and 4 carts connected to one another, each bearing a symbol from the slot. At the very top of the slot, there's a sort of blackboard which displays the total amount of Megaways that the current spin offers (more on this later).
The background music, however, contrasts rather heavily with the rest of the scenery: whilst there's a sole banjo playing calmly, a not-so-subtle boom reverberates rhythmically, almost beckoning the player to play. Once the player spins the reels, the music changes entirely to something that's very energetic.
Furthermore, landing any of the scatter symbols whilst also landing a win causes the reels to suddenly stop and the music shifts into these bassy, heartbeat-like pulses. Finally, if you're lucky enough to land the bonus round, the music changes to something even more upbeat than the usual one!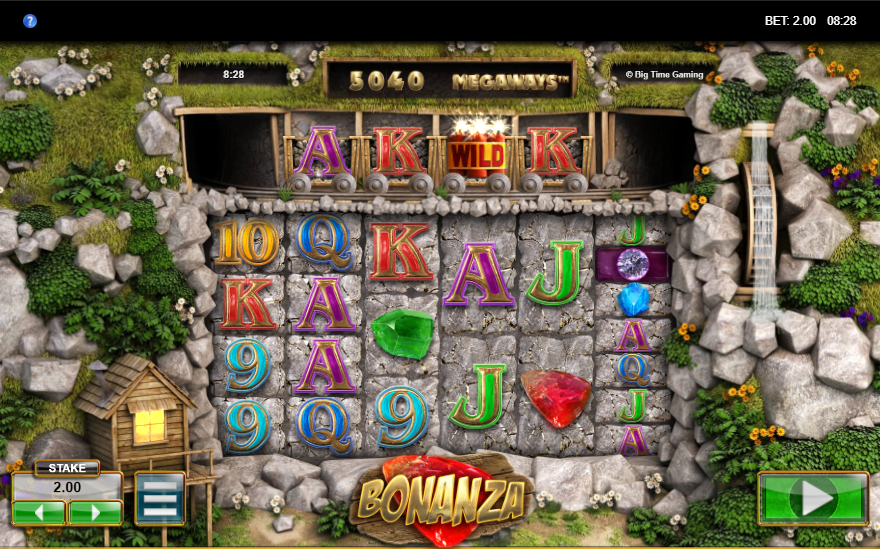 RTP
Bonanza has an RTP (return-to-player) of 96%; at the same time, Bonanza has a high volatility meaning that wins are generally rare, but can potentially be very big.
Limits
Different players afford different wagers, and so slot should offer different bet amounts. The minimum amount you can wager on Bonanza is €0.20, whilst the maximum amount is €20. However, players are free to adjust their bets between these two limits.
Playing Bonanza Slot
At first, Bonanza looks like a rather confusing slot to play, and admittedly it is, as you'll have to read its instructions to understand what's really going on. However, having said that, once you get the hang of it, it easily starts making sense. First of all, Bonanza has 6 reels, rather than the usual 5.
Secondly, forget about this slot having fixed rows or fixed paylines; yeah, that's right, this slot has neither of those. In fact, both these aspects are completely randomised when you spin the reels. This is the whole point the Megaways concept: by giving players a randomised playing experience, with the potential for unbelievable wins.
The way it works is that since the size of the symbols and their numbers are totally random, the rows and paylines themselves are random as well; in fact, the maximum amount of paylines possible is 117649! However, the paylines themselves only work from left to right, much like conventional slots.
So, you can have all the paylines you like, but if your symbols didn't line up from the leftmost reel, you don't have a winning combination. Speaking of winning, a big part of the reason slots are played is the wins that they can potentially give. So, of course, slots are going to have paying symbols. A full table of all the symbols and their associated payouts has been provided below:
| | | | | | | | | | | |
| --- | --- | --- | --- | --- | --- | --- | --- | --- | --- | --- |
| 9 | 10 | No. of Symbols | J | Q | K | A | Green Gem | Blue Gem | Red Gem | Diamond |
| n/A | n/A | 2 | n/A | n/A | n/A | n/A | n/A | n/A | n/A | x2 |
| x0.1 | x0.15 | 3 | x0.15 | x0.2 | x0.2 | x0.2 | x0.25 | x0.25 | x1 | x5 |
| x0.2 | x0.25 | 4 | x0.25 | x0.25 | x0.4 | x0.4 | x0.5 | x1 | x2 | x10 |
| x0.4 | x0.5 | 5 | x0.5 | x0.6 | x0.6 | x0.6 | x0.75 | x1.5 | x2.5 | x25 |
| x0.8 | x0.9 | 6 | x1 | x1 | x1.75 | x1.75 | x1.75 | x2 | x7.5 | x50 |
Mobile Gameplay
Sometimes, it's impossible to just sit down at your computer and play an exciting slot to wind down; which is exactly why we at Betiton™ online casino have entirely optimised our website to be completely compatible for mobile play! Moreover, Bonanza itself is optimised for mobile devices, which is all the better.
Playing Bonanza Slot at Betiton™
Not offering this absolutely exhilarating slot would be a fool's move, and thankfully, we are no fools! So, naturally, we decided to provide this slot to our players. However, that's not the only slot that you'll be able to find in our game library on Betiton™: in fact, you'll be able to find 100s and 100s of other splendid slots!
You can find, amongst many other excellent examples, Gonzo's Quest, Starburst, Book of Dead, Gonzo's Quest Megaways, and Wolf Gold. However, if you feel like switching it from slots, we also provide plenty of table games and an extensive selection of live casino games, including roulette and blackjack.
Furthermore, we also have a dedicated sportsbook that's full to the brim with different sports to bet on, like football, basketball, and horse racing. Finally, whilst games are exciting, we offer more than that: we have a fairly handsome selection of promotions, a magnificent loyalty programme, a pretty good selection of payment methods, and a customer support service that will go out of its way to help you out.
Recap Table
| | | | |
| --- | --- | --- | --- |
| RTP | Volatility | Min & Max Bet | Megaways |
| 96% | HIGH | €0.20-20 | Up to 117649 |
Bonanza Slot FAQs
Where can I play Bonanza slot?
At Betiton™ online casino, of course! Our platform offers a number of licenced verticals, including live casino, and a whole load of promotions.
Can I try Bonanza slot for free?
Yes, definitely. On Betiton™, you can try out slots without wagering by simply accessing the slot's demo version.
Can I play the slot Bonanza on Android?
Absolutely. Both the slot and our platform on Betiton™ are fully compatible and optimised for mobile play, so you can use your Android phone to play it; however, our platform is optimised for all mobile devices.