Hugo Slot
Last Updated: 20-03-2023 12:22
Hugo, the friendly and tiny troll protagonist of this online slot, is caught between a rock and a hard place: his wife has been kidnapped by the Evil Witch Afskylia, who seeks the destruction of their kind; moreover, the dreadful Don Croco guards the mines which hold marvellous riches.
So, will you help Hugo out? All you need to do is play this 5-reel, 3-row slot with 10 paylines that's been developed by Play'n GO! Hugo was released in 2016 and is the first in a series of games that involve Hugo as the central character. This slot offers a good number of special features that should remain entertaining for hours!

"The Evil Witch Afskylia has captured Hugo's beloved, and the vicious Don Croco tirelessly guards the treasure Hugo seeks. Does he have what it takes to rescue his wife and elude the guardian of the treasure?"
| | | | | | |
| --- | --- | --- | --- | --- | --- |
| Slot Name | Type | Provider | Available on Mobile | Available on Tablet | Available on Desktop |
| Hugo | Online Slot | Play'n GO | Yes | Yes | Yes |
Hugo Slot Pros & Cons
As with everything else in the world, there are certain things about this slot that make it really worth playing, whilst other things aren't as great about it. Below, then, you can find a table of the pros and cons we found about this slot:
Pros
Cons
Two Bonus Games
Low Number of Paylines
Wilds are Multipliers
Wins aren't Frequent
Several Scatter Symbols
Crocodiles, Evil Witches, and Extra Spins: Special Features
Wild Symbol
Scatter Symbol
Extra Spins
Extra-Spins Scatter Symbol
Bonus Scatter Symbol
Bonus Game
A slot can't hope to keep players entertained if it doesn't offer special features, and that's a proven fact. Thankfully, Hugo offers a good number of special features that will surely keep it entertaining for spin after spin. The first special feature we'll be looking at is the wild symbol, which is Hugo himself!
Wilds are symbols that subsitute for every other symbol on the reels, save for the scatter symbols. Moreover, the wilds in this slot are also multipliers, meaning that they multiply any win that they're a part of (double in this case). Other than that, the wilds on Hugo also pay out themselves:
| | |
| --- | --- |
| No. of Wilds | Payout |
| 2 | Bet x 10 |
| 3 | Bet x 100 |
| 4 | Bet x 1000 |
| 5 | Bet x 2000 |
Hugo offers 3 scatter symbols, the first of which is the Evil Witch Afskylia; if you land at least 3 of these scatters, you'll unlock the extra-spins round. Other than that, these scatters also pay out themselves. You can find more information about them in the coming section.
During the extra-spins round—which, by the way, you don't need to place any more wagers whilst they play!—another scatter symbol falls on the reels, which is Hugo's wife, Hugoline; every one of these symbols that lands pays a certain amount, depending on which 'extra-spins package' you chose.
The final scatter symbol is the bonus scatter symbol, which takes the form of a treasure chest. These symbols appear on reels 1, 3, and 5, and activate the bonus game when all 3 land. In the bonus game, you have to pick a door, and help guide Hugo to the treasure at the end; watch out for Don Croco though!
Bonus Rounds
There are two bonus rounds in Hugo, the first of which is the extra-spins round. To activate this round, you'll need to land at least 3 Evil Witch scatters. These scatters not only activate the bonus game, but pay out themselves; all the information about them is in this table:
| | | |
| --- | --- | --- |
| No. of Symbols | Payout | Extra Spins |
| 2 | Bet x 1 | n/a |
| 3 | Bet x 3 | 5-15 |
| 4 | Bet x 15 | 5-15 |
| 5 | Bet x 150 | 5-15 |
Once landing the scatters, you'll be prompted to choose 1 of 3 'extra-spins packages', which will offer different things. Whilst one package can offer more extra spins, another package will offer higher values on the Hugoline scatters, the scatters of the extra-spins rounds:
| | | |
| --- | --- | --- |
| Extra-Spins Package | Extra Spins | Hugoline Value |
| The Evil Witch Afskylia | 5 | Bet x 3 |
| Hugo | 10 | Bet x 2 |
| Don Croco | 15 | Bet x 1 |
In the final bonus round, players need to guide Hugo through the mines that are guarded by Don Croco. You will need to pick a door through successive stages of the game; the stages get harder as the number of doors decrease. However, if you manage to arrive to the end, a massive cash prize awaits!
The Tiny Troll With the Big Heart: Theme
The Hugo slot is about the adventures of the tiny troll Hugo. Join him as he tries to save his beloved wife, Hugoline, from the cruel and wicked clutches of the Evil Witch Afskylia, and as he evades the terrible Don Croco on his quest to find the precious treasure at the bottom of the mines!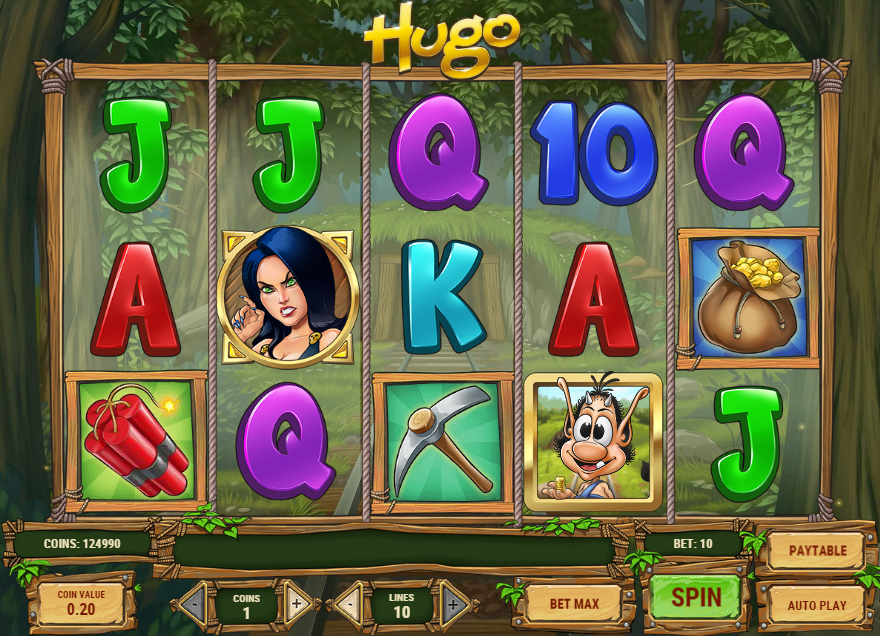 RTP
The RTP (return-to-player) rate of Hugo is 94.40%; however, keep in mind that this number is solely theoretical, so your experience of the slot might prove different. Finally, the volatility of this game is medium, which means that wins will be of moderate sizes and frequency.
Limits
It would be silly to expect every punter to afford the same amounts, and so it's imperative that online slots offer a range of accepted bets. Thankfully, Hugo offers a rather broad range of possible bets; in fact, the minimum bet allowed is €0.01, whilst the maximum possible bet is €100. 
How to Play Hugo
Helping Hugo out in his adventures is a simple matter of clicking a button! Yeah, that's right, all you need to do to play Hugo is click a single button. To play the game, just click the "SPIN" button and watch the reels spin! Hopefully, you'll also land a win.
Winning on Hugo is done by landing at least 2 or 3 of the same symbols, depending on which symbols they are. If you want a faster experience, you can activate Fast Play, which makes the reels spin much faster. Moreover, if you're tired of having to constantly click "SPIN," you can activate auto-play.
Auto-play makes the reels spin on their own for a number of times of your choosing. Of course, it wouldn't be a slot if it didn't offer paying symbols, right? All the information regarding the game's symbols, their payments, etc., has been compiled in the following table:
| | | | | | | | | | |
| --- | --- | --- | --- | --- | --- | --- | --- | --- | --- |
| 10 | No. of Symbols | J | Q | K | A | Pickaxe | Dynamite | Bag of Gold | Golden Nugget |
| n/a | 2 | n/a | n/a | n/a | n/a | n/a | n/a | x0.2 | x0.3 |
| x0.5 | 3 | x0.5 | x0.5 | x1.0 | x1.0 | x1.5 | x1.5 | x2.0 | x2.5 |
| x2.0 | 4 | x2.0 | x2.5 | x5.0 | x5.0 | x7.5 | x7.5 | x15.0 | x25.0 |
| x10.0 | 5 | x10.0 | x10.0 | x15.0 | x15.0 | x25.0 | x25.0 | x50.0 | x75.0 |
Playing Hugo Slot on Mobile Devices
The hectic, helter-skelter nature of modern life sometimes hardly gives us the break we need, and we resort to having to use our phones during what little chances we get to relax. For those situations, we have optimised our online casino to be completely usable on mobile devices. Moreover, the Hugo slot is also completely compatible with all mobile devices, so playing on the go is totally possible! 
Playing Hugo Slot at Betiton™ Online Casino
That looks like a pretty fun game, huh? And the only thing that makes it more fun is by playing it on Betiton™'s online casino! That's because you can find 100s upon 100s of slots on our casino, including some great titles like Starburst, Book of Dead, Gonzo's Quest, and Bonanza.
Other than that, we offer plenty of other forms of entertainment, including live casino and sports markets. On top of that, we have a number of promotions available, a very good range of reliable and secure payment methods, and top-quality customer service!
Recap Table
| | | | |
| --- | --- | --- | --- |
| RTP | Volatility | Min & Max Bet | Paylines |
| 94.40% | MEDIUM | €0.01-100 | 10 |
Hugo Slot FAQs
Does the Hugo online slot offer extra spins?
Indeed, it does. However, you'll first need to land at least 3 scatter symbols to win extra spins. Once you land these symbols, you'll be prompted with a choice between 3 'Extra-Spins packages'; choose one of them and you'll be taken to the extra spins round!
Will I be able to play Hugo for free on Betiton™ casino?
Of course, as all of our games are available to be tried out without players having to wager. This way, players can try any game they like without having to bet a cent, so they can find the game they truly enjoy before sinking in any money. To be able to try out our games, simply click on "DEMO" on the slot's thumbnail, and you'll be directed to the slot's demo version, where you can play it for free.
Can I play Hugo slot on mobile?
Absolutely! Our platform at Betiton™ has been entirely optimised to be used smoothly on all mobile devices, thanks to the scalable nature of the website. That way, you can easily enjoy all of our games whilst you're on the go!