Jumanji Slot
Last Updated: 20-03-2023 12:21
What's a better than a slot about a cult classic movie? The same slot developed by NetEnt! Jumanji slot offers the usual 5 reels and 36 paylines but has a weird shape, giving you a different amount of rows, which makes for an unusual but interesting experience. Don't worry, however, as it still works like a regular slot!

"In 1969, a young boy disappeared without a trace; only a board game, open and unfinished, was found where he should have been. Decades passed and now the board game has been rediscovered, finally unleashing upon the world the terrors that lay within."
| | | | | | |
| --- | --- | --- | --- | --- | --- |
| Slot Name | Type | Provider | Available on Mobile | Available on Tablet | Available on Desktop |
| Jumanji | Online Slot | NetEnt | Yes | Yes | Yes |
Jumanji Slot Pros & Cons
Maybe one of the monkeys from Jumanji messed with the game development or something of the sort because we still found some things that we didn't quite like about this slot. A table with some of the slot's pros and cons can be found below:
Pros
Cons
Low Volatility means Frequent Wins
Many Low Wins
Many Bonus Rounds
Confusing for New Players
Many Special Features
If the Dice Show Two, There's Something for You: Special Features
Wild Symbol
Scatter Symbol
Board Game
Sticky Vines
Monsoon Wilds
Monkey Mayhem
Wild Stampede
This slot is not only full to the brim with the hazards of an uncharted, mystical jungle, but it's also absolutely packed with special features! In fact, it has many interesting, fun, and fantastic features that we doubt that the slot will get boring any time soon.
The first of which is the wild symbol; wilds are symbols that have the capability of substituting every other symbol on the reels. This means that wilds can turn losses into potential wins, or make winning combinations even larger. However, the one symbol that the wild can't substitute is the scatter symbol.
Scatters are symbols that don't need to land in a payline to take effect, which is to say that scatters can land anywhere on the reels and their effect would still happen. If you land at least 3 scatters, then you'll unlock the next special feature of this slot, and that's the board game.
The board game is one of the many bonus rounds that are available on the Jumanji slot. Depending to how many scatters you land, you'll be awarded a number of dice rolls with which you'll be playing the board game. During the board game, you may win extra spins, cash prizes, more dice rolls, etc.
The remaining special features are features that happen randomly and that could land you some fantastic wins. The first one is the Sticky Vines feature; when this feature activates, vines take hold of any wilds that land on the reels and all symbols that are part of a winning combination.
Thus, the wilds and winning symbols are held in place; at the same time, the remaining symbols spin, essentially giving the player a respin. Then there's the Monsoon Wilds feature. During this feature, rains starts falling on the reels, and out of nowhere crocodiles jump on the slot, turning either 1 or 2 reels entirely wild!
Next there's the Monkey Mayhem feature. When this feature is triggered, a group of monkeys from beneath the reels shuffle the symbols around to guarantee the player a win! The final feature is the Wild Stampede feature, where a group of rhinos stampede on the reels, adding 4-9 wilds in random locations on the slot.
Bonus Rounds
Landing at least 3 scatters will grant players a number of dice rolls (consult the table below for details) that they can use for the board game. The board game has a number of tiles, and on each one a prize is offered. Other than the prizes already mentioned, the board game also offers the Mystery Feature.
| | | |
| --- | --- | --- |
| No. of Scatters | Payout | Dice Rolls |
| 3 | n/a | 6 |
| 4 | n/a | 7 |
| 5 | n/a | 8 |
The Mystery Feature spins in the middle of the board and wherever it lands, it'll award the player with a prize; these could be anything from extra dice rolls, cash prizes, or one of the extra-spins rounds. Speaking of which, there are 4 extra-spins rounds in the game, each with their own amount of extra spins:
| | |
| --- | --- |
| Bonus Name | Extra Spins |
| Vines Free Spins | 10 |
| Monsoon Free Spins | 7 |
| Monkey Free Spins | 6 |
| Stampede Free Spins | 5 |
As the names imply, these extra-spins rounds offer the same special features that we mentioned in the previous section, only this time with extra spins thrown in the mix! This makes for some really fun bonus games that can, potentially, significantly bump up your bankroll!
In Jumanji You Must Stay, Until You Find the Way: Theme
The theme for this slot is, rather obviously, the 1995 movie Jumanji. For those who haven't watched the movie, it's about a boy who goes missing after finding and playing a board game named Jumanji. The board game sucked him into its world of jungle horrors.
26 years later, a couple of kids discover the board game again and being playing. Whilst playing, they unintentionally release the boy from 26 years prior, who has grown up; but they also begin releasing the perils of the jungle world of Jumanji, which wreak havoc in their neighbourhood.
The only way to put an end to all the dangers is by finishing the game; however, they are faced with several obstacles—including stampeding animals, giant mosquitoes, and the merciless, relentless hunter Van Pelt—which they must surmount to finish the game once and for all.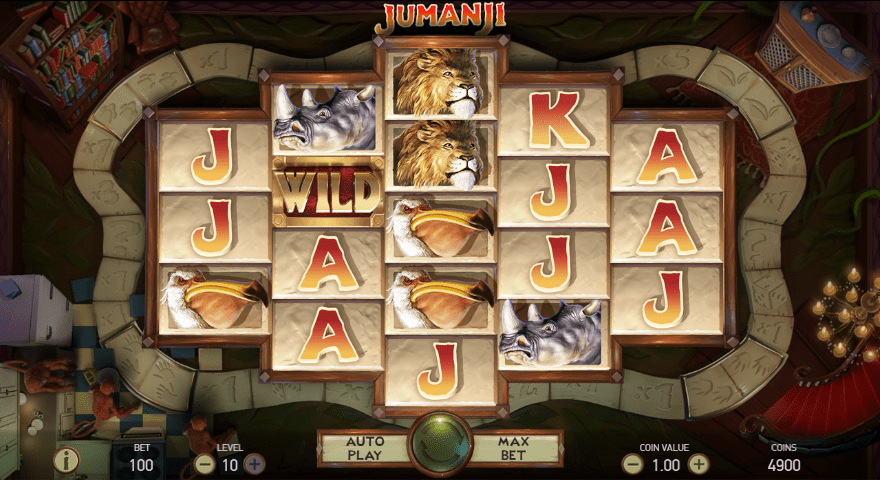 RTP
The RTP (return-to-player) rate of this slot is 96.33%; however, do bear in mind that this percentage is theoretical, so your experience of the game might differ. Moreover, the volatility of Jumanji is low meaning that wins are generally frequent, but tend to be rather low.
Limits
It would be pretty ridiculous to assume that every punter can afford the same amounts, which is exactly why online slots should be able to cater for every sort of player. Thankfully, Jumanji offers a pretty wide range of bet limits: its minimum allowed bet is €0.10 whilst its maximum is €200.
A Short Guide to Playing Jumanji Slot
Whilst the board game was full of peril, the slot won't pose a threat to you at all! So much so that the slot is rather easy to play: all it takes is the push of a button and a little help from Lady Luck. To play Jumanji, all you have to do is the press the "SPIN" button and hope for the best.
If, however, you'd like the game to move at a faster pace you can activate Quick Spin from the game's settings, which will make the spins finish faster. Moreover, if constantly clicking gets on your nerves, then you can turn on auto-play, which makes the slot spin on its own for a number of times.
Finally, no slot would be complete without its symbols and their payouts. A table with all the necessary information about the slot's symbols has been provided below. The values beneath the symbols are the coins that you'll win; their value depends on what you set it to when adjusting your bet.
| | | | | | | | | |
| --- | --- | --- | --- | --- | --- | --- | --- | --- |
| No. of Symbols | J | Q | K | A | Pelican | Crocodile | Rhino | Lion |
| 3 | 2 | 2 | 2 | 2 | 3 | 4 | 5 | 6 |
| 4 | 3 | 3 | 4 | 4 | 8 | 10 | 15 | 20 |
| 5 | 7 | 8 | 9 | 10 | 25 | 30 | 50 | 140 |
Playing Jumanji Slot on Mobile
Sometimes we're too caught up in the stampede of daily life to be able to enjoy a good slot at our computer; for these situations, playing on mobile is usually the best way to go. The good news is that Jumanji is completely compatible with mobile play; moreover, our platform at Betiton™ has been designed to be usable on all mobile platforms, meaning that playing on the go is totally possible on Betiton™'s online casino.
Playing Jumanji Slot on Betiton™
Jumanji is a truly fun slot that'll keep any player, whether or not they're fans of the movie, entertained for hours. So, to feel like we're the kings of the jungle, we've provided this slot for our loyal users! However, we also have plenty of other slots available within our game library.
These include great titles like Bonanza, Gonzo's Quest, and Book of Dead. Moreover, we also provide a handsome amount of live casino and table games for casino-lovers, and plenty of sports markets in our sportsbook for the sports-bettors amongst you.
Recap Table
| | | | |
| --- | --- | --- | --- |
| RTP | Volatility | Min & Max Bet | Paylines |
| 96.33% | LOW | €0.10-200 | 36 |
Jumanji Slot FAQs
How do I win on the Jumanji slot?
Winning on Jumanji is pretty easy as all you have to do is land 3 or more of the same symbol on any of the 36 paylines along the reels. The more symbols that land and the more paylines they cover, the bigger the wins!
Will I be able to win extra spins on Jumanji?
Yes, of course! To win extra spins on Jumanji, you'll first need to land the minimum amount of scatters needed to unlock the bonus game. Once in the bonus game, you're going to need to land your token on one of extra-spins squares on the bonus-game board; that way, you'll win extra spins!
Can I play the Jumanji online slot for free on Betiton™ casino?
Absolutely! At Betiton™, we care about our players, and so we provided all of our slots with a demo version for players to able to try out a slot without having to wager anything. Simply click on "DEMO" on the slot's thumbnail to access the demo version.