Monkey Warrior Slot
Last Updated: 20-03-2023 11:45
Does classic Chinese literature interest you? And do you find excitement in experiencing adventures of epic proportions? Then why don't you try out this online slot that offers the two of them combined! Monkey Warrior is a video slot developed by Pragmatic Play.
Released in 2019, Monkey Warrior is based off the 16th century, classic Chinese novel Journey to the West. In fact, those familiar with the novel will be able to recognise the central characters of the book! However, you don't need to have read the novel, or even be a fan of Chinese literature, to enjoy this fantastic slot. Let's see why that is.
"For the atonement of their sins, the Monkey Warrior and his companions undertake a perilous journey… but will they succeed?"
| | | | | | |
| --- | --- | --- | --- | --- | --- |
| Slot Name | Type | Provider | Available on Mobile | Available on Tablet | Available on Desktop |
| Monkey Warrior | 243 Ways Slot | Pragmatic Play | Yes | Yes | Yes |
Monkey Warrior Slot Pros & Cons
Like every other slot out there, Monkey Warrior offers a handful of things over the others, but also has aspects that other online slots do better. Therefore, a small table with a few pros and cons has been provided below:
Pros
Cons
243 Ways to Win
Wins are Uncommon
4 Different Jackpots
Many of the Symbols Pay Low
Extra Spins Bonus Round
Can be Confusing at First
Money Respin Feature
Is It Just Pretty Colours? Monkey Warrior's Special Features
Wild Symbol
Bonus Symbol
Money Symbol
Extra Spins
Money Respin
No slot would be complete nowadays without offering some sort of special feature, whether that's a special symbol, an in-game bonus, a minigame, or what have you. Thankfully, Monkey Warrior doesn't disappoint when it comes to special features as it has a good handful of fun features.
The first of which is the wild symbol. Monkey Warrior himself acts as the wild symbol for this slot, and what it does is that it substitutes for every other symbol on the slot (with the exception of the bonus symbols and the money symbols).
Speaking of which, the bonus symbol for this slot is the Monkey Warrior's magical staff. The symbol only appears on reels 2, 3, and 4, but doesn't need to land in any particular order to trigger its effect; that is, as long as there are 3 bonus symbols on the reels, they will activate.
When the 3 bonus symbols land, they will pay double your bet, grant you 8 extra spins, and activate the Extra Spins round. Finally, the last special feature is the Money Respin feature. If you land at least 6 money symbols, the Money Respin feature will activate.
Bonus Rounds
As we mentioned in the previous section, there are 2 bonus rounds that can be activated on Monkey Warrior, each with their own exciting elements. The first bonus round is the Extra Spins round, which can be activated when players land the 3 bonus symbols.
Extra spins are exciting because you don't need to wager any more whilst they play. Furthermore, during the extra spins round, only the highest paying symbols will appear, so any wins you'll receive during the round will be amongst the highest available for the slot.
Moreover, if 3 more symbols land during the Extra Spins round, you will be granted a further 8 extra spins; this has no limit, and can potentially happen over and over! The second bonus round is the Money Respin round, which can seem rather confusing at first.
Activating the Money Respin round requries 6 or more money symbols, which are red peaches with either amounts of money or the words MINI, MINOR, MAJOR, or GRAND written on them. What these mean will be important for the Money Respin bonus round.
The Money Respin round starts with 5 respins; after every respin, there is the chance for a random minigame to pop up, asking you to choose between 1 of 3 chests, which grant you 1, 2, or 3 further respins. During this bonus round, only the money symbols and empty spaces appear on the reels.
Any money symbols that land will remain in place until the end of the round, which happens when you run out of respins or when the slot is full of money symbols. Afterwards, the values of the money symbols are added together to give you your total winnings.
Moreover, if the money symbols have either MINI, MINOR, MAJOR, or GRAND written on them, you'll win one of the jackpots at the top of the slot! Finally, if all the positions on the reels are occupied by money symbols, then your winnings are doubled!
A Classic Chinese Novel? Find Out More about Monkey Warrior's Theme
We already mentioned that Monkey Warrior is based off a classic Chinese novel, but is that all there is to it? Hardly, as the slot has plenty of Asian visual features that will transport you to a different world, including the cherry blossoms that adorn the sides of the slot.
Moreover, the music is also characteristically Chinese, which further enhances the feeling of being transported elsewhere. Finally, the symbols should easily remind players of the novel the slot is inspired from as they're characters and objects from the book itself!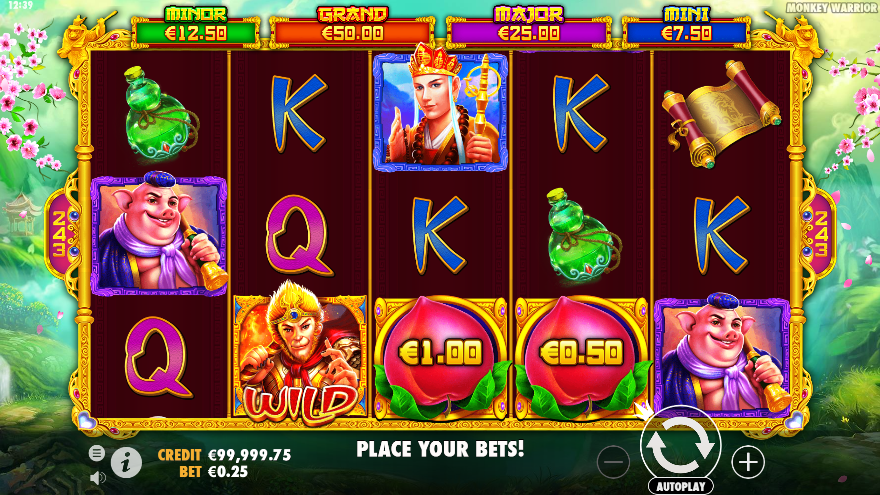 RTP
The RTP (return-to-player) rate of the slot is 96.5%. On the other hand, the slot offers a medium-high volatility, which means that wins aren't as often as those of a low volatility slot, but they tend to be rather larger in comparison.
Limits
Of course, different players will be able to afford different bet amounts; and whilst some players prefer protracting their game time with minute wagers, others will want to bet larger amounts for the chance of getting a really big win! This is exactly why slots will allow for different bets. Monkey Warrior's minimum bet is a mere €0.25, whilst its maximum bet is €125.
Becoming the Monkey King: How to Play Monkey Warrior Slot
Before even spinning the reels, players will notice that Monkey Warrior looks like a fairly standard slot, and by that we mean that it has 5 reels and 3 rows. However, players will immediately notice something that isn't common with regular slots, and that's the jackpot amounts at the top of the slot.
Other than that, when players spin the reels they will quickly realise that Monkey Warrior doesn't really have paylines in the conventional sense; whilst conventional slots have fixed lines through which winning combinations are calculated, Monkey Warrior does away with all that and instead offers what's called 243 Ways to Win.
What this means is that any combination of 3 or more of the same symbol will be a winner, no matter where they land on the reels. However, the symbols must be on consecutive reels from left to right, like regular slots; what's different is that they don't need to line up perfectly with predefined paylines.
If you do the math, the number of possible winning combinations adds up perfectly to 243, which explains the odd number. However, we'll spare you the boring mathematical workings, and instead we'll give you something exciting: the payouts of Monkey Warrior's symbols! In fact, a table with all the symbols and their payouts has been provided below:
| | | | | | | | | |
| --- | --- | --- | --- | --- | --- | --- | --- | --- |
| No. of Symbols | Q | K | A | Green Potion | Scroll | Green Warrior | Purple Warrior | Blue Warrior |
| 3 | x0.4 | x0.4 | x0.4 | x0.4 | x0.8 | x0.8 | x1 | x1 |
| 4 | x0.6 | x0.6 | x0.8 | x0.8 | x1.2 | x1.4 | x1.6 | x2 |
| 5 | x2 | x2 | x2 | x2 | x6 | x8 | x12 | x20 |
Playing Monkey Warrior Slot on Mobile
The hustle and bustle of modern life sometimes doesn't give us the break we need, and by that we mean that sometimes it's hard to sit back, start up your PC, and relax; which is why mobile play has become so attractive. For these situations, our platform at Betiton™ is fully optimised for mobile play. Moreover, Monkey Warrior itself is completely compatible with mobile devices.
Playing Monkey Warrior Slot on Betiton™
That slot is rather exciting, huh? You know what's more exciting? Playing Monkey Warrior on Betiton™ online casino! That's a little presumptuous of us, huh? But we're convinced that our platform offers players one of the best online gaming experiences on the whole world wide web.
Our game library is teeming with games, including table games and live casino games like roulette and blackjack; moreover, we have a dedicated sportsbook in case you also happen to enjoy betting on sports. Finally, we have a decent amount of promotions that both casino and sports lovers can enjoy!
Recap Table
| | | | |
| --- | --- | --- | --- |
| RTP | Volatility | Min & Max Bet | Paylines |
| 96.5% | MED-HIGH (3.5/5) | €0.25-125 | 243 |
Monkey Warrior Slot FAQs
Can I play the Monkey Warrior slot for free on Betiton™ casino?
Definitely, all of our slots on Betiton™ online casino are free to try out. All you need to do is access the slot's demo version.
Will I win real money when I play the Monkey Warrior slot game?
Indeed; all you have to do is wager real money, and you can definitely win real money!
Are there extra spins to be won on Monkey Warrior?
Yes, there are! Consult our "Special Features" and "Bonus Rounds" sections for more information.