7 Sins Slot
Last Updated: 21-07-2022 13:05
Unlike most classic online slots featuring fruity symbols and jackpot signs, this online slot game takes its theme to a whole new level! Have you been fascinated by stories about the seven deadly sins? What if they were brought to life by seven alluring ladies? Try 7 Sins slot on our online casino and decide for yourself how devilishly good it is.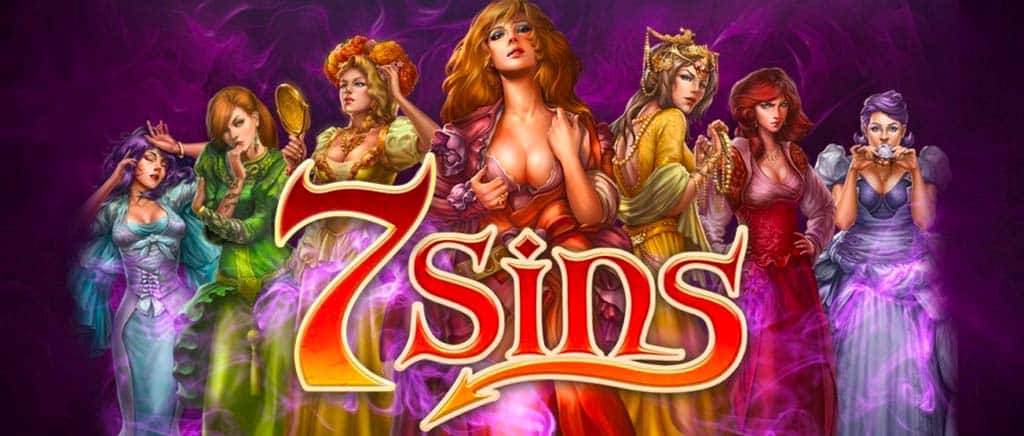 "The seven temptresses of sin, each one representing a different vice, lie in wait to allure their next victim."
7 Sins Slot Details
Introducing the 7 Sins slot – a take on the classic trope of the seven deadly sins, now revamped as seven beautiful mistresses, which take on the role of various symbols throughout the game. Try to spot Vice, Gluttony, Wrath, Greed, Sloth, Lust, and Pride as you play this captivating slot.
| | | | | | | | | | | |
| --- | --- | --- | --- | --- | --- | --- | --- | --- | --- | --- |
| Software | Release Date | Game Type | Paylines | Reels | RTP | Volatility | Hit Ratio% | Minimum Bet | Maximum Bet | Jackpot |
| Play'n GO | 24.11.2016 | Online Slots | 243 | 5 | 94.23% | High | N/A | €0.10 | €10 | N/A |
7 Sins Slot Review
Allow yourself to be tempted by the 7 Sins, each of which is represented on the reels by a seductively lovely lady. The game was initially released on November 24, 2016, and it's a bold and intriguing Play'n Go slot. Seven is the fortunate number in this game, so keep an eye on those wild sevens. You can gain seven free spins in the main bonus round, along with stacked wilds and a progressive multiplier that goes up to 7x. This is a high-volatility slot, which means you can win up to 1580 times your bet – a rare find indeed.
Game Design
Each of the seven deadly sins is depicted by a Victorian-era lady who embodies the sin she represents: whether it's Wrath, who scowls violently, Greed, who has more jewellery than she can carry, or Vanity, who can't tear her gaze away from her own image in the mirror.
The game soundtrack is also on point, and despite this game being released in 2016, it has definitely aged well. You can't tell from the graphics or the mechanics that this game is now six years old!
Each of the women is dressed in flowing robes with tight bodices in the Victorian gothic style, giving the game a throwback feel. The game's highest paying icons are of course the seven women representing the seven deadly sins, and you will also notice the card suit symbols for the lower prices. Contributing to the lush design are the colours which are all jewel tones, such as deep crimson, gold, and emerald green.
The design of this game is truly one-of-a-kind, and you won't find another slot like it. See if you can spot the various characters that embody the seven sins for yourself!
Gameplay
The objective of the game is to align three or more matching symbols, or alternatively two matching symbols, and a wild symbol. Keep in mind not all symbols in the slot game will pay equally.
Once you enter the game you can adjust your bet amount via the two arrows. You don't have to settle on the same bet for the whole game – you can adjust that any time before you press the spin button.
Once you've got your game settings in place, 7 Sins is surprisingly simple to play and quite rewarding. Examine the paytable information after the reels have loaded to determine the prizes available. You may also want to tailor the game parameters to your preferred playing style; for example, you may like to play without the soundtrack or with autospins.
The game settings are accessible through the excellent Play'n GO user interface, which is highlighted in gold to match the reels. The autoplay feature, in particular, provides a plethora of possibilities for keeping track of victories and losses.
7 Sins Symbols
All the information surrounding the various 7 Sins base game symbols in play can be found below. You can learn more about the 7 Sins expanding wilds and scatters in the corresponding sections.
| | | | | | |
| --- | --- | --- | --- | --- | --- |
| Symbols | 3x | 4x | 5x | 6x | 7x |
| Greed | x0.70 | x1.40 | x5.00 | x16.00 | x250.00 |
| Lust | x0.60 | x1.30 | x4.00 | x14.00 | x225.00 |
| Wrath | x0.50 | x1.20 | x3.00 | x12.00 | x200.00 |
| Gluttony | x0.40 | x1.10 | x2.00 | x10.00 | x175.00 |
| Envy | x0.40 | x1.10 | x2.00 | x8.00 | x150.00 |
| Sloth | x0.30 | x1.00 | x1.50 | x6.00 | x125.00 |
| Vanity | x0.30 | x1.00 | x1.50 | x4.00 | x100.00 |
| Wild (7) | x1.00 | x2.00 | N/A | x6.00 | x700.00 |
| Spades | x0.10 | x0.40 | x1.00 | x2.00 | x35.00 |
| Hearts | x0.10 | x0.40 | x1.00 | x2.00 | x30.00 |
| Clubs | x0.10 | x0.40 | x1.00 | x2.00 | x25.00 |
| Diamonds | x0.10 | x0.40 | x1.00 | x2.00 | x25.00 |
RTP & Volatility
7 Sins is a video slot with return to player rate that is fairly average for modern day slots at 96.30%. Keep in mind that RTPs are only theoretical and based on this information your experience may vary. In addition, this is a high volatility slot game, meaning that wins aren't common, but once you hit a success, your payout will be more substantial than most slots.
Bet Limits
It would be foolish to assume every player to bet the same amount, which is why slots should be able to accommodate a variety of betting ranges. The smallest wager allowed on 7 Sins is €0.10, and its maximum stake is €100.
What Is 7 Sins' Jackpot (Max Win)?
There are 243 ways to win when playing 7 Sins. If you are lucky enough to win the maximum when playing 7 Sins, you could get up to 1580 times your stake!
How to Play 7 Sins Slot Online
All you need to do to enjoy the 7 Sins slot game is register at Betiton™ and put through the minimum deposit. You can then divide it into small bets whatever way you like and start playing the game – it's as simple as that.
There is no trick when it comes to winning at slots because the behaviour of these games is dictated by random number generators, which give a result that can only be reproduced by chance. The way the symbols fall into winning combinations in a multiway pay slot is not governed by precise paylines; instead, you're aiming for 3+ symbols on consecutive reels, starting from the one on the far left. Consider how scatters behave to get a sense of what we are talking about.
The clever Play'n GO paytable will compute your stake return automatically, with Greed rewarding the highest base game payoff.
Don't forget playing slots is supposed to be fun and entertaining, so never risk money you can't afford to lose. Set some time limitations so you can keep track of your wins and losses; you may even set autoplay to notify you when your balance reaches a specific level. Don't forget to bank 50% of your winnings and add the balance to your bankroll for the next session when you're through for the day.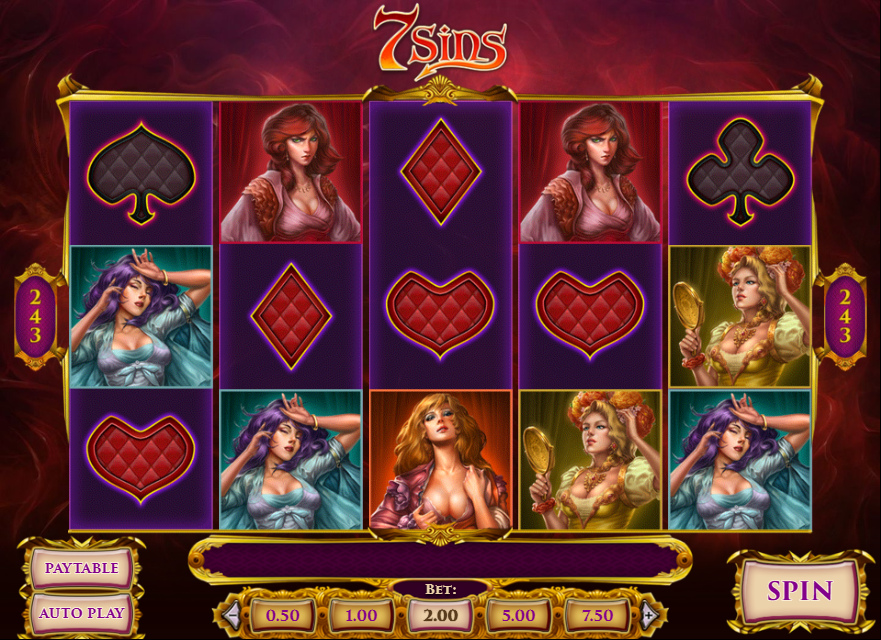 Playing 7 Sins on Mobile
Sometimes, life keeps us busy to enjoy our favourite games, which is why a lot of punters are turning to mobile devices. And this is exactly why our platform on Betiton™ has been fully optimised to do – allow users to play on their mobile devices without limitations. This is also fantastic news for those that prefer using mobile devices as opposed to computers. Finally, it's good to know that 7 Sins has also been designed to be compatible with all devices, so whether you want to play on a tablet or your smartphone, you're covered.
Bonuses in 7 Sins
You will be glad to know this game has incredible bonuses – in fact, more than one. As you play you might come across the Pandora's Box Free Spins, the Double Wild Feature, and even a Mini Bonus Game. The next sections will go over these decadent bonuses and we will explain how they work.
Wilds
You will find two symbols in this slot game that take on the role of wilds – the wild 7 symbols, and the double wild 7 symbols. Both of these can substitute for all emblems in the game, apart from the Pandora Box scatter symbol, of course. You can come across the double wild symbol in reels 2 and 4. If you are lucky enough to hit a five-of-a-kind win, including the two wild symbols, this is calculated as 7-of-a-kind instead and will award players the biggest amounts. Depending on the various number of wilds you land, you can receive larger payouts. Check the info below for more:
| | |
| --- | --- |
| Number of Wilds | Payout |
| 3 | x1.0 |
| 4 | x2.0 |
| 6 | x20.0 |
| 7 | x700.00 |
The game also has a scatter symbol, represented by a golden Pandora's Box, which will work against your wilds and block them from working, just like with other games.
Respins
This game doesn't have a respin feature per se, but you may come across the incredible 7 Sins free spins round instead. Learn more about it further down the page.
Multipliers
The Mini Bonus Game is triggered once you spin two of the golden Pandora's Box symbols. The game has a "pick me" feature, where you have to choose one of the seven ladies in order to receive a secret prize. You could snatch a reward of 2x, 3x, 7x, or 15x your bet. You could also get a third Pandora's Box symbol, which will trigger the free spins round.
Free Spins in 7 Sins Slot
If you catch 3 Pandora's Box symbols, you will trigger the free spins feature. Each spin represents one of the characters, resulting in a total of 7 free spins. Only one of the characters is in play for the duration of each free spin, with one of the ladies expanding on reel 3. Every free spin also comes with a multiplier prize, starting at 1x your payout on the first spin, and increasing to 7x your payout on the last free spin, resulting in some fiendishly lucrative potential winnings.
7 Sins Slot Pros & Cons
Everything in life has its perks and disadvantages. The same goes for slot games, so it's important to know what you are up against. Below we have highlighted the pros and cons of the 7 Sins slot game:
Pros
Cons
Free Spins
Limited to 7 Free Spins
7-of-a-kind Wins
High Volatility Slot (For Some)
Mini Bonus Game
Extra Chance Feature from Scatters
High Max Win
Play 7 Sins on Betiton™
If you'd like a healthy dose of fun and the theme of seven sins interests you, then this entertaining slot with carefully crafted visuals is just for you! Enjoy devilishly good wins right here at Betiton™! All you need to do is become a registered member of our online casino. The signup process is super quick and won't take you longer than two minutes. Before you know it, you'll have access to our expansive library of games, so you can enjoy any game you like. Choose between table games, slots, and live casino games. We even offer a welcome bonus for first-timers.
7 Sins Review Conclusion
7 Sins
Slot
"If you like colourful characters, a dramatic soundtrack, and a carefully curated slot game, then you will certainly enjoy the 7 Sins Slot. This is a high volatility slot game, so keep that in mind before you start playing for real money. The free spins feature will yield the largest payouts. So, if you hit the wild double 7s on the seventh free spin, you'll be rewarded with a 7x multiplier, which might result in a devilishly large payoff. It all ties together in the end."
– Betiton™
Recap Table
| | | | |
| --- | --- | --- | --- |
| RTP | Volatility | Min & Max Bet | Paylines |
| 94.23% | HIGH | €0.10-100 | 243 |
Related Slots
Did you like the theme of 7 Sins slot? If so, you might enjoy other titles with a similar topic:
Amazing Link Fates
Lil' Devil
Amazing Link Apollo
Cabaret Royale
Charlie chance in Hell to Pay
777 Surge
Temperance
Other Games by Play'n GO at Betiton™
In case something about 7 Sins didn't tickle you fancy, there are other incredible slots you might like by the same game provider. Have a look below:
Animal Madness
Puebla Parade
King's Mask
Def Leppard: Hysteria
Cat Wilde and the Lost Chapter
Idol of Fortune
Merlin and the Ice Queen Morgana
The Last Sundown
Alice Cooper and the Tome of Madness
Ghost of Dead
Wild Trigger
Dr Toonz
Hotel Yeti-Way
Frequently Asked Questions About 7 Sins Slot
Got any more questions about the 7 Sins Slot? You might find your answers below:
Can I win extra spins playing the 7 Sins slot?
Yes, you definitely can! All you need to do is land 3 scatter symbols and you will be awarded with 7 extra spins, one for each sin.
Is 7 Sins free to try out on Betiton™ online casino?
At the moment, you can only play 7 Sins if you become a registered member of Betiton™ Casino.
Can I play the 7 Sins online slot on mobile?
Absolutely! All games at Betiton™ Casino are optimised with the latest HTML5, making them completely adaptable to any device. Whether you are out and about and suddenly get a whim to play a game, you can do so freely from your smartphone. If you like to play on your tablet, you can also do so without having to download a casino app and take up precious space on your device.
Will I win real money playing 7 Sins?
Of course! However, to win real money, you'll need to wager real money. Don't worry, however, as bets start from as low as €0.10, so you can actually have plenty of fun, even with a simple €10 note in your deposit.
How to win in 7 Sins?
All the games featured on our website are made fair, using special RNG (Random Number Generator) software. This guarantees the games give a random result each time and aren't biased depending on how much you bet or who is playing. Additionally, our games are being tested regularly by third-person specialists to confirm the games are in fact accumulating fair results in the long-term.
This means it's not possible to use any strategies to try and increase your chances of winning – each and every spin is completely randomised.