Alive! Megaways Slot
Last Updated: 21-07-2022 13:18
It's electrifying! It's monstrously good! It's Alive! Joining the many hundreds of online slots that can be played here at Betiton™, we present a horrifying, wicked and maddening video slot that will have you screaming in terror or absolute joy. The slot game is Alive! Megaways. Developed by one of the newest gaming companies on the market called Skywind. If Alive! Megaways is anything to go by, then we can expect many more incredible casino games from them in the near future.
Our review of Alive! Megaways will introduce you to an experiment gone completely right. We will present to you the gaming dynamics that feature, tell you what can be won, how to win, and what other games by Skywind can be played here at Betiton™.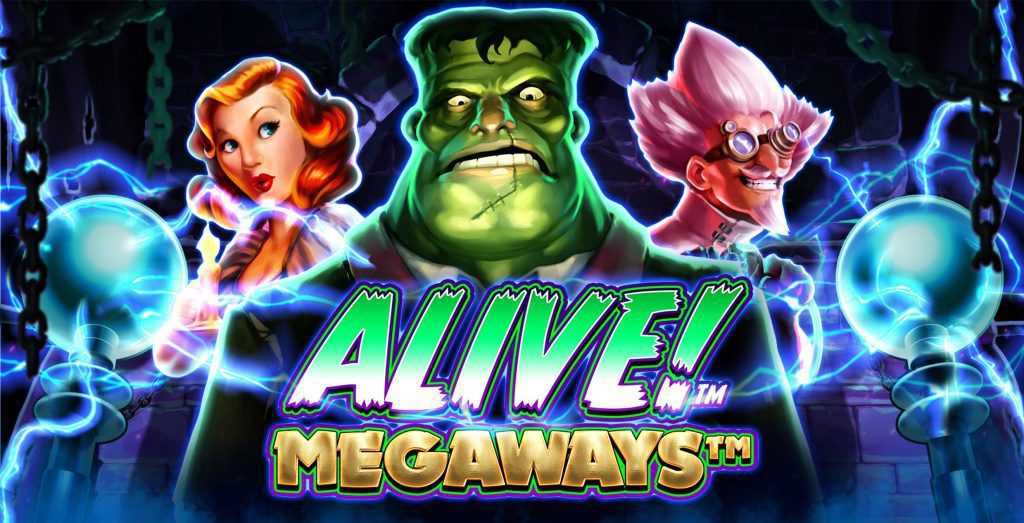 Alive! Megaways Slot Details
| | | | | | | | | | | |
| --- | --- | --- | --- | --- | --- | --- | --- | --- | --- | --- |
| Software | Release Date | Game Type | Paylines | Reels | RTP | Volatility | Hit Ratio | Minimum Bet | Maximum Bet | Jackpot |
| Skywind | 2021 | Video Slot | 200,704 Ways to Win | 6 | 96.47% | High | 34.3% | €20.00 (€25.00 with feature) | €20.00 (€25.00 with feature) | €200,000 |
Alive! Megaways Review
This casino game is nuts! Let's just make this point clear from the start because the sheer audacity it has to bring about incredible gaming features as it does, is unseen by new developers. Skywind certainly made one hell of a monster in this creation. Alive! Megaways is, dare we say it, one of the best games not only released in 2021 but perhaps of all time. What a statement Skywind have made with this slot game, and we are proud to have it on our list of games.
This review comes with a warning! Take your time and pace through the information, as we have SIX huge gaming features to talk you through. Prepare yourself now before you cramp up. Ready?
Game Design
Alive! Megaways is designed and styled on the creation of Frankenstein's monster, thusly, the whole, "Alive" part, is attributed to Frankenstein's reaction in the story when he sees his monstrous creation live through his experiments.
Alive! Megaways presents users to the Megaways programming if the title wasn't obvious enough. So, what is Megaways, and how can you benefit from Megaways more than regular slots? Well, the Megaways brand is a programming element that was created by another gaming company called Big Time Gaming. Where a traditional slot game would typically use x-number of reels to hold the symbols, the Megaways programming for this particular game does things slightly differently.
You still get reels, but with Alive! Megaways, these reels hold multitudes of varying symbols. A total of 7 symbols can land on just one of the 6 reels that come with this slot game. What the Megaways creates is a higher number of ways to win, 200,704 ways to be exact. This means you win in clusters more so than by the concept of a payline.
From a visual perspective, when it comes to the actual design, Alive! Megaways oozes incredible animation, with highly engrossing animation that really does bring the game to life. It's games like this that really do capture how incredibly wonderful and entertaining online casino slots can be. It really is something Skywind can be proud of, and you need to be playing it now.
Gameplay
The gameplay of Alive! Megaways is certainly not like a normal slot machine, Alive! Megaways is abnormal to its credit. At the base level, the rules of engagement are the same as they would be with any slot, you only ever need to press the spin button for the game to perform. However, there is a feature, an option, an opportunity that presents itself that removes you from the base level of play. This is the Bonus Buy feature. What this does is give you direct access to the multiple bonus rounds of the slot game, where you can play free spins and discover many more twisted new ways to win. More on this to come.
Alive! Megaways Symbols
Let's take a look at the symbols that feature in this slot game and highlight their values once the reels have been spun.
| | | | | | |
| --- | --- | --- | --- | --- | --- |
| Symbols | x2 Matching | x3 Matching | x4 Matching | x5 Matching | x6 Matching |
| Monster | x10 | x20 | x50 | x100 | x200 |
| Dr. Frankenstein | x10 | x20 | x30 | x50 | x100 |
| Red Head Lady | – | x5 | x10 | x15 | x30 |
| Igor | – | x4 | x6 | x10 | x20 |
| Potion Bottle | – | x3 | x5 | x7 | x15 |
| Nut and Bolt | – | x3 | x5 | x7 | x15 |
| Red Heart | – | x2 | x3 | x5 | x10 |
| Yellow Diamond | – | x2 | x3 | x5 | x10 |
| Blue Spade | – | x1 | x2 | x4 | x8 |
| Green Clubs | – | x1 | x2 | x4 | x8 |
There are two other symbols that feature:
The Human Brain (Wild): Substitutes for all symbols listed in the table.
The Electric Charger (Scatter): Activates bonus rounds.
RTP & Volatility
Alive! Megaways is a high volatility game, which means that landing wins are less frequent than in other volatility settings. In this case, you will play for longer periods and spend more money without landing any profit. But when you do win big, it is highly profitable. This kind of setting is more acquired for the high rollers amongst you reading our review and using our casino. We would warn that this is not a game that should be played by those who are restricted to a budget.
The Return to Player score (RTP) is at 96.47%, which is about average for a casino game that harnesses the powers of a Megaways program. This RTP score indicates the potential payout rate of this particular slot game. The larger the score, the greater the potential return can be. However, it never is an exact science, and winning is purely based on luck regardless.
Bet Limits
To revel in the brilliance of Alive! Megaways, the lowest cost to play the game per spin is €0.20. The maximum betting end, it costs €20.00 to play a spin. However, this leads us to another one of the gaming features cunningly created by the minds of Skywind.
The game presents the Double Chance feature. Users can select this feature at a cost of 5 additional credits. What this mode does is increases your chance of landing free games by more than double than in the original game mode. Yes, that is the sound of "cha-ching" in your ears. This mode, therefore, carries a maximum cost per spin of €25.00.
What is Alive! Megaways's Jackpot (Max Win)?
Only a monster jackpot would do for what is a monster game. The total that can be potentially won from the Alive! Megaways game is a staggering €200,000! Yes, it's shockingly good, isn't it?
How to Play Alive! Megaways Slot Online
If you don't know how to play online slot games or Megaways slots, the process is very simple. Before you start spinning the reels of this Megaways game, you need to check the default settings. Typically, this game defaults at €1 per spin. Set your level that can range from €0.20 to €20.00 on normal mode.
Once you are happy with the cost settings, you only need to press the spin button, which is to the far right of the control panel. Each spin made, to the left of the panel you will see the Megaways counter, which can reach up to 200,704 ways to win.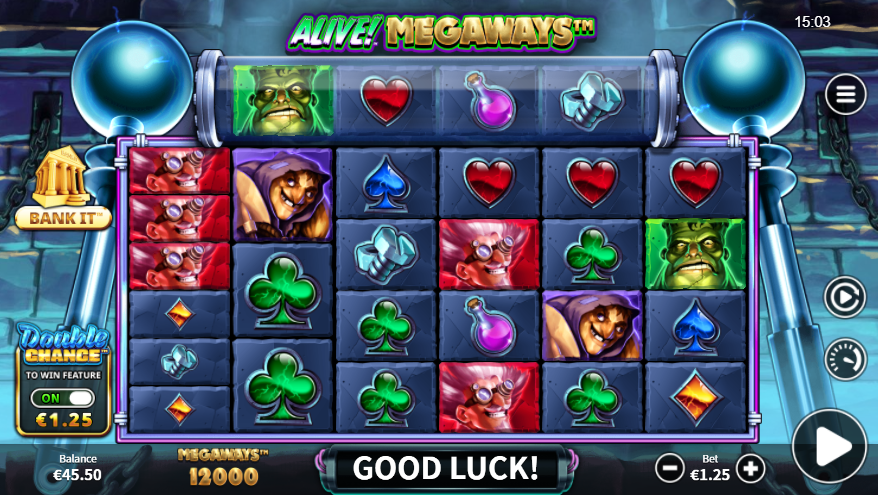 How to Win in Alive! Megaways
By forming clusters of symbols that are on adjacent reels is how you win real money from this slot game. But with this Alive! Megaways slot, you have a handful of additional features that make this one of the most busiest casino games going. There's a lot more going on than the Alive! Megaways wilds and its free spins in this pulsating video slot.
Playing Alive! Megaways on Mobile
If you wish to experience the madness of Alive! Megaways, you can do so through any mobile device that is powered by either Android or iOS software. This is because the game and our casino come integrated with HTML5 software, which is 100% mobile-friendly. As long as you are in a place that can make a strong and secure connection to the internet, then you are free to play where you like.
If during play, the Megaways game cuts out and loses signal to the internet, then the game will have already logged the outcome of the spin once it is made. So, if you were to win from that spin and the connection cuts, the programming of the game will log and inform you of any winnings should they have been the result if no connection was lost.
Bonuses in Alive! Megaways
Now, this fantastic slot game boasts more than just a Megaways setup. The Alive! Megaways slot carries many gaming features, 6 in total, each one playing their role in helping you to win as much real money as your luck will allow. We touched on a couple of these features already, but let's give you a complete rundown of what you get and how you can benefit.
Unlimited Multiplier Feature
This is an incredible Free Games feature that is triggered when landing 3 or more of the game's Electric Charger Scatter symbols.
3 of the scatters = 8 free games, which are basically 8 free spins. Each additional scatter landed rewards the player with an extra 4 free spins. But that's not all, as the feature comes with an unlimited multiplier. This starts at x1 and will increase by x1 after each symbol is removed from the Extra Chance feature. If during the free spins you land the Meter symbol, it can trigger 2, 4, or 8 free spins.
Also, during this feature, you can land the Play It Your Way feature up to 9 times!
Play It Your Way
The Play It Your Way feature is triggered when the Unlimited Multiplier Feature ends. Play It Your Way gives you three options, 1) collect your winnings and end the feature, 2) you can select the gamble option to choose from one of five free game options, or 3) players can bank part of their wins and take on the gamble.
The gamble involved a green zone that retains your bonus prize and awards you an additional number of free spins. Land the red zone, and you forfeit the money you didn't bank, but you might get a consolation prize.
Bank It
Players have a sliding bar to gauge what money they wish to bank in their meter, which comes into play with the Play It Your Way feature. Money that becomes banked is included in the overall win cap that the Alive! Megaways slot has.
Extra Chance
The Extra Chance feature will be triggered after any winning outcome. The result of which removes low prized symbols from the top tube and the main reels.
Double Chance
The Double Chance feature can be spotted on the side of the game, and this is where you can up your wager by 5 coins to better your chances of landing the Unlimited Multiplier Feature.
Bonus Buy
Also, to the side of the game, you will see the Bonus Buy feature. This allows you to play 10 Alive! Megaways Free Spins within the Unlimited Multiplier Feature. To buy your way into a potential fortune comes at a cost, and that is 2000x the cost of the coin bet or 100x the wagering total.
Alive! Megaways Pros & Cons
Is this the best game going, is there too much going on, and are Megaways a hype? Well, lets look at the pros and cons of the Alive! Megaways slot and then you can decide if this game is alive and kicking or as dead as a dodo.
Pros
Cons
6 Gaming Features
High Volatility (not good for budget players)
200,704 Ways to Win
Incredible Animation
Total Gaming Engagement
200,000 EUR Jackpot
Play Alive! Megaways on Betiton™
Experience the Alive! Megaways slot right here at Betiton™, either as a real money game or as a free demo feature. Our demo casino games are open to all members. You can Play Alive! Megaways from our casino in its demo mode without cost, download, or registration. You can use the unlimited time and endless free credit to discover the many great features of this casino game and play for fun.
If you join us at Betiton™, you can enjoy the Alive! Megaways slot with the 150 free spins that can be claimed via our welcome bonus package (T&Cs apply).
Alive! Megaways Review Conclusion
Alive! Megaways
Slot
"As far as great casino games go, the Alive! Megaways slot is seriously one of the best to drop in recent years. This is a packed game that is enthralling and all-consuming. It's a monster of a game that is scarily good. This would even work outside the Megaways programming because it just has such great energy. Definitely a top game, and we are so glad to have this on our site for you to be able to play and enjoy countless times."
– Betiton™
Related Slots
Alive! Megaways is a standalone slot game that has no sequel or alternative format of play. You will find many other Megaways games inside of our casino. They don't all perform the same way as Alive!, but why not find out for yourself?
These are some of the Megaways casino games you can play in Betiton™.
Majestic Megaways
Invaders Megaways
Gold Digger Megaways
Dazzle Me Megaways
Curse of the Werewolf Megaways
Big Bad Wolf Megaways
Other Games by Skywind at Betiton™
If you would like to experience more of the dazzling casino games developed by Skywind, then we have a load of them right here in our casino. These are just a few of the many great games this company has been making for your entertainment.
Big Top Bonanza Megaways
Big Buffalo Megaways
Jokers Luck
Dance with the Devil
Combat Masters
Super Lion4
El Paso Gold
Frequently Asked Questions About Alive! Megaways
How are Megaways games different from normal slots?
The programming of these games uses far more symbols, and more symbols can be featured upon any one reel, up to 5, in fact. This is vastly different from a traditional slot that can provide, on average, 25 paylines. With megaways, you have hundreds of thousands of different ways to win.
Can I play free spin bonuses?
Free spins are available but are noted as 'free games' within the details of the game. You will also have growing multipliers included within the free games you play.
What is the jackpot that I could potentially win?
The highest amount to be won from this game is €200,000. This will be paid out in accordance with our withdrawal policy, which means incremental payments over a period, so we do not breach our own withdrawal limits.
Can I play Alive! Megaways from my mobile?
Yes. The game and our casino are 100% mobile compatible. You can enjoy the game via your Android or iOS device without having to perform any downloads.