Chaos Crew Slot
Last Updated: 20-03-2023 11:22
Here at Betiton, we have a list of over thousands of online slots from a host of incredible providers, and today, we'll be looking at another unique and exciting title from the makers at Hacksaw Gaming called Chaos Crew. Hacksaw Gaming is a software developer who is quite new to the scene but is already creating some of the most fun and rewarding titles in the industry. Let's have a closer look at what this fun slot on our online casino has to offer: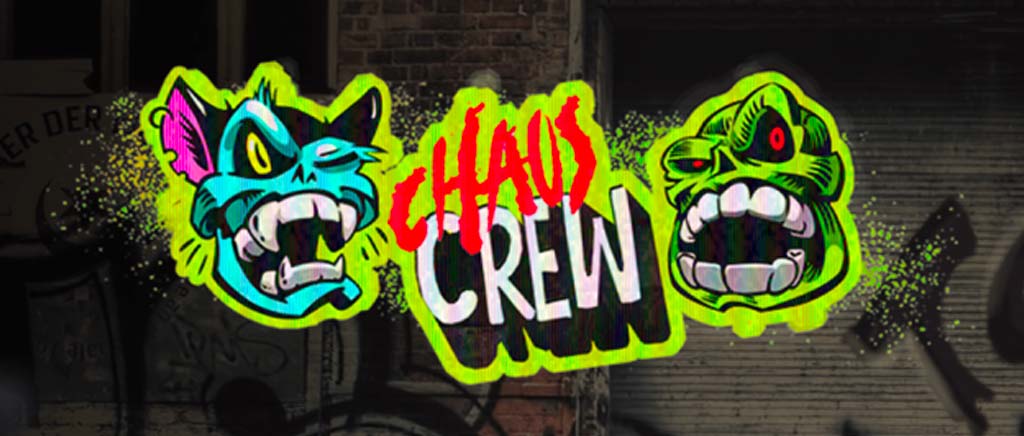 Chaos Crew Slot Details
Below, you can find a table with everything you need to know regarding this slot machine's characteristics and details. This title was released in 2020, and you've got 15 ways to land wins when playing here. Bets can be made from as low as €0.10 and as high as €100, making the online slot perfect for both low rollers and high rollers alike.
| | | | | | | | | | | |
| --- | --- | --- | --- | --- | --- | --- | --- | --- | --- | --- |
| Software | Release Date | Game Type | Paylines | Reels | RTP | Volatility | Hit Ratio% | Minimum Bet | Maximum Bet | Jackpot |
| Hacksaw Gaming | 2020 | Online Slots | 15 | 5 | 96.30% | High | N/A | €0.20 | €10 | 10000x |
Chaos Crew Review
Now that you know all of the characteristics that make up this online slot machine, it's time to check out the visuals and soundscapes of the Chaos Crew title, together with information regarding the slot's different symbols and what they stand for.
Game Design
It's safe to say that we're hard-pressed to find a title that comes visually close to what we have in Chaos Crew. First things first, the characters of the game have an obnoxious feel to them, with Cranky the Cat as the main character and Sketchy the Skull as his sidekick, already an unusual pairing for a game! The reels of the game are set in an alley with graffiti all over the walls, giving this slot machine a grungy and punk feel to it, especially when coupled with the rock music that's blasting when you're spinning the reels.
Gameplay
Keeping up with the punk-feel of the slot title, there are many instances in the game where the reels start shaking or a neon colour pops up on the grid, making sure you're alert and wide awake! For example, whenever you land a win, the icons on the reels will start shaking and a highlighter pink pay line will be visible to show you your win. When landing a big win, the whole reel will start shaking, a cool feature that will surely leave you breathless!
Chaos Crew Symbols
Let's take a look at the range of eclectic pop-art-inspired symbols you'll find on the grid when you're playing this online slot. The highest paying graffiti symbols here are the octopus leg, the apple skeleton design, and the brain, while the lowest ones are the ones that have a circle border around them. You'll also find many symbols on the reels that say either 'no',' dead', or 'false', and these icons will not pay you anything when you land them on the reels.
| | | | |
| --- | --- | --- | --- |
| Symbols | 3x | 4x | 5x |
| Tentacle | x2.00 | x7.00 | x12.00 |
| Apple core Skull | x1.00 | x2.00 | x5.00 |
| Brain | x1.00 | x2.00 | x5.00 |
| Moth | x1.00 | x2.00 | x5.00 |
| Electric Smiley | x0.15 | x0.30 | x1.00 |
| Circle with X | x0.15 | x0.30 | x1.00 |
| Smiley | x0.15 | x0.30 | x1.00 |
| Skull | x0.15 | x0.30 | x1.00 |
| Magic 8 Ball | x0.15 | x0.30 | x1.00 |
RTP & Volatility
This slot machine has an RTP of 96.30%, and a high volatility level. When playing slot machines that have a high volatility level, you won't land wins as often as in low volatility slot machines, however, when you do manage to earn a win, it will be a sizable amount that will be worth the wait!
Bet Limits
Bets here can be made from low as €0.20 to as high as €100. To toggle between the different bet limits, simply select the plus and minus buttons on the right-hand side of the screen. Please remember to only bet with money that you can afford to lose, as you can never predict when you'll be able to land a win with an online slot.
What is Chaos Crew's Jackpot (Max Win)?
If you're lucky, the Chaos Crew slot can grant you a massive win of 10000x your wager!
How to Play Chaos Crew Slot Online
Are you feeling lucky and would like to place a real wager on Chaos Crew for the chance to also win real money? Then follow our step-by-step guide to getting started playing this title for real money!
First things first, if you don't have one already, you'll need to create an account by clicking on the grey 'join' button on the left-hand side of the screen. The setting up process should only take a couple of minutes to complete.
Second, after you've signed in, you'll need to make your deposit using one of the site's safe banking options, such as Visa, Mastercard, or Paypal. If it's your first time making a deposit at Betiton, you'll be able to benefit from the site's welcome bonus offer, which will double your deposit up to €150 so that you can play with more for your money, together with 50 Free Spins to play on selected games.
Finally, you'll need to head over to the game and click on the 'play now' button. After selecting your wager, you're ready to start playing!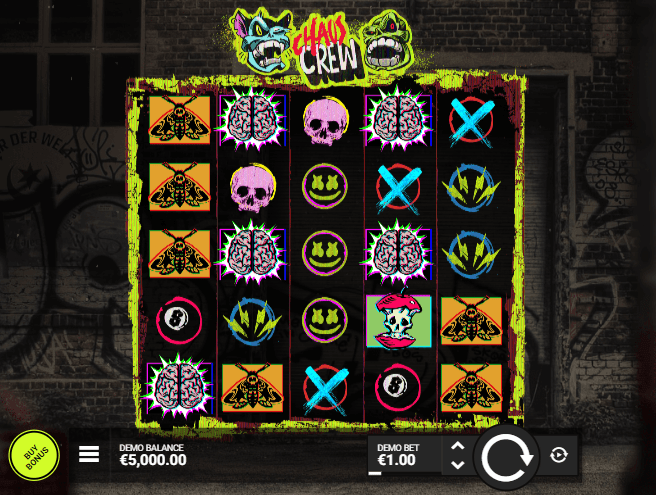 Playing Chaos Crew on Mobile
You'll be happy to learn that all of Hacksaw Gaming's titles, including the Chaos Crew slot, can be played wherever you are, be it whether you're on a long commute, in a boring queue, or waiting for a friend at a cafe. You can expect the titles on mobile and tablet to work as seamlessly as they do on desktop, as long as you have a stable internet connection.
Bonuses in Chaos Crew
This unique title has many fun features and bonuses up its sleeves, and we've outlined everything you need to know below so you'll know just what to expect once you start playing.
Wilds
Cranky the Cat acts as one of the wild symbols in this title, and when he appears on the reels, he can replace any of the other symbols to help you with landing matching formations, except the Free Spins. This icon also has a mystery multiplier embedded in it and can grant you either 2x,3x, or 5x your wager. Adding onto this, if you manage to land more than one Cranky the Cat symbol in one win line, the multipliers will multiply each other, which can land you some pretty impressive wins!
Respins
There are no respins in this title.
Multipliers
The multipliers in the game are awarded when landing the Cranky the Cat wild symbol, and can give you 2x, 3x, or 5x your wager, as explained above. During the Free Spins bonus round, the symbols and their function change, and these will award you with even more multiplier awards, as explained in the section below.
Free Spins in Chaos Crew
When landing three of the Free Spin icons on the reels, you'll be awarded three Free Spins. Here, every time you land a winning formation, the amount of Free Spins will be reset to three. You can check out how many Free Spins you have left by checking out the meter on the right hand side of the grid.
During the Free Spins mode, you'll notice that above each reel there is a number. When the Free Spins mode comes to an end, these values will be added together and multiplied by the total bet.
During these bonus spins, the following symbols will trigger the following bonuses:
Cranky Cat: The skull will have a number that will be added to the reel's multiplier, and these could be either 2x, 3x, 5x, 10x, or 20x.
Epic Cranky Cat: Works just like the Cranky Cat symbol, but instead of multiplying just one reel, it will multiply all the reels.
Sketchy Skull: Inside the sketchy skull there will be a number that will then be added to the reel's multiplier, and these can be the following amounts: +1, +2, +5, +10, or +20.
Epic Sketchy Skull: Just like the feature above, it will add the number inside of it to all the reel multipliers.
Chaos Crew Pros & Cons
Pros
Cons
Unique design
No jackpot
Potential to win up to 10000x your wager
Might not be suitable for low-rollers due to the high volatility rating
Varied gameplay
Captivating music
Play Chaos Crew Slot on Betiton™
To get started playing Chaos Crew on Betiton, all you need to do is simply log into your account, search for the game, and then click on the 'play now' button. If it's your first time playing a game at the site, check out our section above that will give you a step-by-step guide on how to get started playing online slot machines with Betiton.
Chaos Crew Review Conclusion
Chaos Crew
Slot
"The Chaos Crew slot is quite a memorable slot machine thanks to its unique graphics and fun multiplier bonus awards that can get you some fantastic wins! This slot machine is perfect for any player out there that's looking for an entertaining title without any of the complicated features. Make sure to give this title a try on the demo mode before playing it for the real thing so you can get an idea of what it consists of, and if you're feeling lucky, go ahead and try your luck by placing a real money wager on the title."
– Betiton™
Related Slots
There are currently no other titles in the Chaos Crew series, however, we've rounded up a few slots that carry the punky, neon, and grimy (in the best way possible) vibe.
Punk Rocker™
The Rave™
Neon Staxx™
Mayhem™
Annihilator™
Other Games by Hacksaw at Betiton™
If you had a blast trying out this game at Betiton, then make sure to check out our range of other titles from this wonderful developer.
Wanted: Dead or a Wild™
The Bowery Boys™
Toshi Video Club™
Joker Bombs™
Stack 'Em™
Frequently Asked Questions about Chaos Crew
If you have any more questions about Chaos Crew, have a look below to see if it's answered.
Is it safe to play slot machines online?
Here at Betiton, we take our player's rights very seriously, so whenever you make an account and place a real money deposit with us, you can rest assured that all your details are secured using the highest technology encryption available. Other than that, we also have a customer support group that is there to help you anytime if you ever come across a problem at the casino, so you can focus on letting loose and having fun.
Is Chaos Crew fun to play for free?
Online slots such as the Chaos Crew slot have fun features and fantastic visuals that are sure to keep you entertained till the very last spin, however, if you're looking for a more exciting slot experience, we highly recommend playing with real money.
Is it possible to win real money when playing Chaos Crew slot?
Yes, all online slots have the potential to land you real money prizes when playing with real money, however, there is no sure way to guarantee a win as the results of these games are unpredictable.
What's the volatility level of Chaos Crew?
Chaos Crew is a high volatility online slot, which means you won't land wins often here, but when you do, you can expect a high amount.