Chilli Heat Slot
Last Updated: 20-03-2023 09:52
There is something about the country of Mexico that makes even the most laidback of people go a little bit wild. When this happens, it is usually the heat and the tequila that get the blame sent their way. This Chilli Heat slot by Pragmatic Play is one of those online slots that brings a little piece of Mexico right into your living room. Keep on reading this Chilli Heat slot review to find out all that you need to know about it and whether it is a slot game that you think you would love to try out with real money on the line.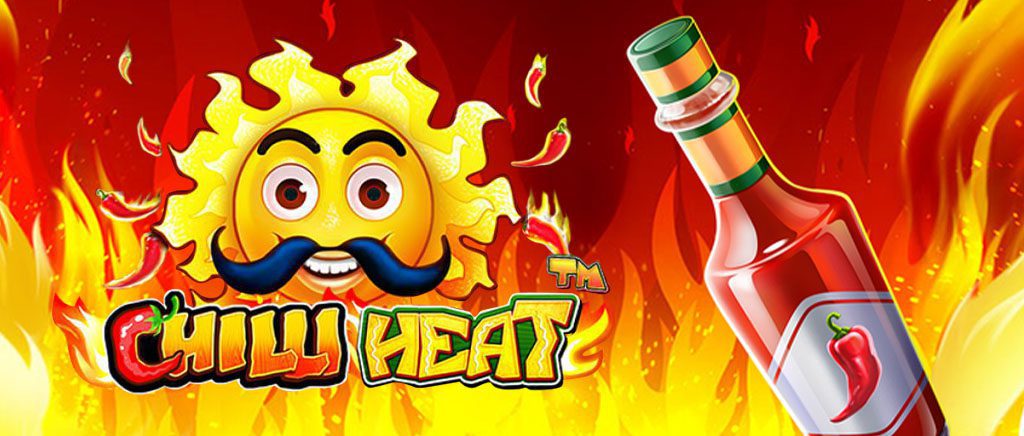 Chilli Heat Slot Details
| | | | | | | | | | | |
| --- | --- | --- | --- | --- | --- | --- | --- | --- | --- | --- |
| Software | Release Date | Game type | Paylines | Reels | RTP | Volatility | Hit Ratio % | Minimum Bet | Maximum Bet | Jackpot |
| Pragmatic Play | February 2018 | Online slot | 25 | 5 | 96.50% | Medium | N/A | 00.25 | 125.00 | 2512x Stake |
Chilli Heat Review
While it is safe to say Mexican themed slots are not the most popular among slot players, there are still plenty of players who actively seek them out, which is why an online casino that is serious about what they do will make sure that they offer their customers a decent variety of Mexican themed slot games such as this Chilli Heat slot game by Pragmatic Play. This slot has been around for four years now and due to how popular it has become, we are sure that it will hang around for many more years to come.
Game Design
When you open up this slot game for the very first time you will quickly notice the jolly feel that it gives off. With its array of bright colours and distinctly Mexican background to the side of the reels, you will soon feel that you have actually been transported to an actual Mexican street party. To help make the theme more realistic, there is a mariachi-style soundtrack that we could listen to for hours to be quite honest with you.
While this slot is not the most sophisticated out there when it comes to design, we do feel that the decision to go for cartoon-style imagery worked a treat in this slot game.
Gameplay
If you decide to sit down and play this Chilli Heat slot game, then your main aim is to try and land at least three identical symbols consecutively along one of the active paylines. There are some slot games out there now that will pay out for landing two identical symbols consecutively, but this slot is not one of those.
When it comes to slot games, they are now one of the most popular types of casino games due to the fact that they are very easy to play and give players the opportunity to land some decent monetary prizes without the need to risk a lot of their hard-earned cash. You will be happy to hear that if you decide to play Chilli Heat that you will be able to learn all the ins and outs of it in no time at all.
In the bottom left of the screen you can see a minus and plus sign that you can use to decrease or increase your total wager per spin. When you are happy with the stake that you have set, click the "Spin" button that is located in the middle of the minus and plus signs to get the reels spinning. Then, all that is left for you to do is hope that you have some luck, and you get yourself a winning combination.
A lot of slots will have an autoplay option that you can make use of so that you do not need to have to keep clicking the spin button, but this Chilli Heat slot is not one of those games. It would have been a lot better if the software developers decided to give such an option, but the fact that it is missing is not that much of a big deal anyway.
Chilli Heat Symbols
It stands to reason that different symbols in a slot game come with different values – if all the symbols in a slot were the same and paid out the same amount, then you can only imagine how quickly things would become very boring. In this next part of our Chilli Heat slot game, we are going to provide you with a table that highlights the value of the different regular symbols that you will come across when you are playing this slot.
Although we are now giving you all of the information that we think you need when it comes to playing this quality slot game, we still do recommend that you take some extra time to read the paytable before you start playing with some real money on the line. In order to find the paytable for this slot, just click on the "i" button in the bottom left and it will pop up – just spend a couple of minutes reading through it so that you can refresh your memory once again.
| | |
| --- | --- |
| Symbols | Value 3, 4, or 5 Identical Symbols |
| Mexican man | 0.4x, 2x, or 8x your stake |
| Chihuahua | 0.2x, 1.2x, or 6x your stake |
| Hot Sauce | 0.2x, 1x, or 5x your stake |
| Tequila and lime | 0.2x, 1x, or 4x your stake |
| Ace | 0.2x, 0.4x, or 2x your stake |
| King | 0.2x, 0.4x, or 2x your stake |
| Queen | 0.2x, 0.4x, or 2x your stake |
| Jack | 0.2x, 0.4x, or 2x your stake |
So, as can be seen from this table, the highest paying regular symbol in this slot game is the Mexican man, so this is the one you will want to see more of when playing. On the other hand, the lowest paying symbols are the playing card symbols Ace down to Jack. This slot game also has a wild, scatter, and money symbol, but we will speak about these in more detail when we are discussing the bonus features that this slot game has.
RTP and Volatility
Whenever you are considering playing a completely new slot game you need to take some time to find out the Return to Player rate and the type of volatility that it has.
If you are a novice slot player, then there is a good chance that you are not entirely sure what the Return to Player rate, also called the RTP, symbolises. If this is the case, then do not worry because we are going to take a minute or two to explain it you now. So, the RTP is a theoretical number that symbolises the amount of money that a slot can pay out over a period of time. However, since the number is a theoretical one worked out over a large number of spins, there is nothing stopping you from having a totally different experience. The Chilli Heat slot RTP is 96.50%, which is a very reasonable RTP in our view. This indicates that every time €100 is spent on this slot, €96.50 will be paid back to the players in the very long run—and by that we mean over hundreds of thousands of spins. Whilst the bigger the RTP is, the better, theoretically speaking, it should be for the players, don't expect to win back your money as easily as the RTP makes it out to be.
What does the slot volatility indicate? Well, it symbolises the type of winnings that you are likely to land if luck happens to be with you. For example, if you see that a slot is said to be highly volatile then it means that the chances of landing small regular wins is small, but whenever a win does come your way, it will be a big one. On the other hand, if you see that a slot is a low volatility one, it indicates that small wins can be frequent, but those big wins will be quite uncommon. This slot by Pragmatic Play comes with a medium volatility, so it sits somewhere in between.
Bet Limits
We obviously all do not have the same amount of money in our bank accounts, meaning that we all cannot afford to spend hundreds of euros on a spin of a slot game. Software developers are obviously aware of this fact which is why it is important that they develop online slots that fit into a variety of budgets so that they do not cast out a large portion of their potential customers and cut of even more profit.
The minimum that this slot game can be played for is €0.25 per spin, while the maximum amount that you can put on a spin stands at €125.00. Thus, we do think it is fair to say that this is one of those slot games that manages to cater to a variety of budgets.
What is the Chilli Heat Jackpot (Max Win)?
The online slot industry is now so competitive that slot developers need to find some way to sure that their games are able to stick out in a very saturated market. One of the best ways to make sure that this is the case is to create slots that give players the chance to win some big cash prizes.
If you decide that you would like to play this game for real money, then the maximum win that you can get is 2512x your wager. So, if you decide to play this slot with the maximum stake of €125, the most that you could potentially walk away with stands at €314,000.
How to Play Chilli Heat Slot Online
In order to have a good playing session on this Chilli Heat online slot, all that you require is a couple of euros and some luck. Earlier we said that this is an easy slot game to play, and below we have provided you with a step-by-step guide that shows you how simple it is to play this game by Pragmatic Play:
Use the minus and plus buttons below the reel to set how much you want to spend per spin
Click the "Spin" button so that the reels are set in motion
The reels will stop spinning after a few seconds and if you get lucky enough to land three or more matching symbols on one of the paylines from the left to the right of the reels, then you win. Any winnings that you make will be put into your balance straight away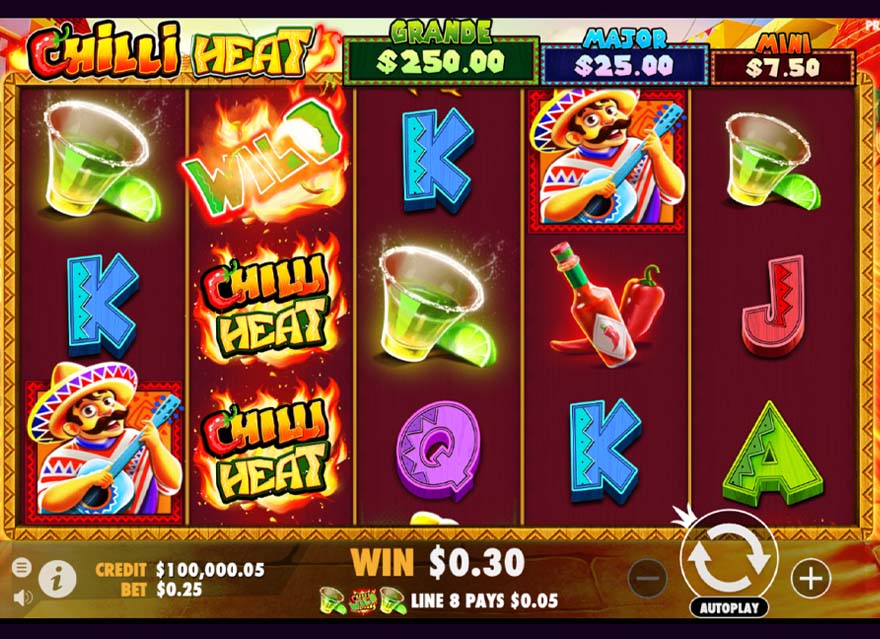 Playing Chilli Heat on Mobile
Nowadays, the vast majority of gamblers have access to top-quality smartphones and an Internet connection, so it should come as no surprise to find out that more slot lovers are playing their favourite games on the go than ever before. Everyone loves having the option of playing casino games wherever they are, and all of the best software developers know this, which is the reason why they always make sure that their games are available to play on a range of different devices.
If you happen to be the kind of gambler that likes to play your favourite casino games on the go, whether that is slots or table games, you will be happy to find out that you will have the option of playing Chilli Heat wherever you are because it is fully mobile compatible.
Bonuses in Chilli Heat
Like we said before, the online slots industry is really competitive, so software creators such as Pragmatic Play are required to add different bonus features to their slot games if they want them to have plenty of success. A slot that is lacking in the bonus feature department is one that players will get bored of really quickly. This Chilli Heat slot has a number of top bonuses, and we will take a closer look at these right now.
Wilds
The game's logo is the wild symbol in this slot and it can act as a substitute for all of the regular symbols, increasing your chances of getting a winning combo. In addition to this, the wild symbol can appear stacked on the reels, which increases your chances of winning even more.
Respins
Some novice gamblers think that free spins and respins are the same thing, but this is not true. If a slot has a respins feature, then it means that certain reels or symbols can be frozen at once, while the other reels that are not frozen will be spun again to give you a better chance of getting a winning combination. With free spins, on the other hand, all of the reels are spins at the same time at no extra cost. This Chilli Heat slot comes with a great respins feature that we are going to explain right now for you.
The Money Respin feature is activated if you manage to land six or more money bag symbols on the reels during the same spin. The sacks that trigger the bonus feature are locked in place and you get given three respins. The respins are played on reels that are made up of money sacks and blanks – if you land a new money bag, it too will lock in position and your respins tally will be reset to three. The feature comes to an end when you use up all of your respins.
When you are playing this feature, you will see that each bag has a cash value attached to it or a Mini/Major jackpot. The Mini Jackpot gives 30x your wager, while the Major Jackpot gives 100x your wager. At the end of the round, the values on the sacks are combined to give you your final payout.
The thing you want to try and do here is fill every position on the reels with a money sack symbol as not only will you get the combined total of the sacks, but you will also pocket 1,000x your stake.
Multipliers
We all love the chance of being able to win more money whenever we gamble, which is why multipliers in slot games is a feature that every slot player loves. A multiplier will have a face value and then if you land a win when the multiplier is active, your winnings will be multiplied by that value. So, if you have a 4x multiplier in play and you go on to win €30.00, you will get a crisp €120.00 instead.
Not every slot game comes with multipliers though, and this slot game is one that falls into that category. However, once you have taken a look at all of the different bonus features, we are sure that you will forget all about the lack of multipliers.
Free Spins in Chilli Heat
If you managed to get the sunshine scatter symbol on reels two, three, and four during the same spin, then the free spins bonus feature is triggered and you will get eight free spins. When you are making use of your free spins, the card symbols are removed from the reels, meaning the higher paying regular symbols are the only ones in play. There are unlimited retriggers on offer here, which is always great to hear, and you can even activate the aforementioned Money Respin feature.
Chilli Heat Pros and Cons
Below we have given you a table that showcases some of the major pros and cons of this Chilli Heat slot:
| | |
| --- | --- |
| Pros | Cons |
| A decent RTP of 96.50% | Nothing is unique |
| Unlimited free spins | You might find the music annoying |
| Fits a variety of budgets | N/A |
Play Chilli Heat on Betiton™
If you would like to play this slot, you will be happy to find out that you can do so here at Betiton™. If you are still not that sure as to whether Chilli Heat is a slot that you want to play, then you can try out our Chilli Heat slot demo before you play with any of your own money. However, keep in mind that if you opt to try it out in demo mode, you will not be able to win real cash.
Additionally, we know that many of our patrons enjoy doing some mobile gambling, which is the reason why we have ensured that this slot can be played on a variety of mobile devices from our site. Alongside the plethora of slots, you can also find plenty of blackjack, roulette, and baccarat variants and a really good live casino scene. Furthermore, if you are the kind of player that likes to bet on sporting events, we are happy to be able to tell you that we have a very good sports betting section that offers competitive odds and a variety of markets.
Apart from this, we also have top banking methods available for deposits and withdrawal, and we offer bonuses and promotions that rival our main competitors. To top it all off, if you encounter an issue, have a chat with out friendly and professional customer support team and they will sort it out quickly.
The Chilli Heat Review Conclusion
Chilli Heat
Slot
"We really enjoyed this Mexican street party thanks to the bright and colourful atmosphere that is on offer. The gameplay is not that bad either, and there are two top bonus features that you can try and take full advantage of. We really like the Money Respin bonus feature since it can deliver some great action. When it comes to the free spins feature, you do not get a large number of free spins, but there are some decent opportunities on offer since the card symbols have been removed. It might not be as fiery as the name suggests, but it can still be plenty of warmth when you are playing."
Overall, we would give this slot game a rating of 3.5/5.
– Betiton
Related Slots
Extra Chilli by Big Time Gaming
Chilli Heat Megaways by Pragmatic play
Esqueleto Explosivo 2
Other Games by Pragmatic Play at Betiton™
Wolf Gold
Mustang Gold
Great Rhino
Great Rhino Megaways
The Dog House
Chilli Heat
Great Rhino Megaways
Wild West Gold
Wild West Gold Megaway
The Great Chicken Escape
Frequently Asked Questions About Chilli Heat Slot
What RTP does Chilli Heat slot have?
This Chilli Heat slot game has an RTP of 96.50%, which is a reasonable RTP in our view.
Where can I play Chilli Heat slot?
You will be able to play Chilli Heat here at Betiton™. If you want to try it out before risking your own money, then you can play in demo mode to see if it a slot that you would like to play with real money on the line. When you play in demo mode, you cannot win any real cash.
What is the max win in Chilli Heat slot?
The maximum win that you can land when playing this slot game is 2512x your wager. Since the biggest stake you can place is €125.00, the most you can win is €314,000.
Are there free spins available in Chilli Heat?
Yes, you can earn yourself eight free spins where the low paying symbols are removed, giving you a better chance to land some decent wins.