Tome of Madness
Last Updated: 20-03-2023 11:28
Everybody's favourite explorer is back with another sizzling-hot installment in the Rich Wilde series. Players can enter the Tome of Madness and join the fearless explorer in another adventure classic. The Rich Wilde online slots series is bountiful and Play'n GO manage to outdo themselves with each release.
The intrepid explorer's new mission is to uncover the secret Cult of Cthulhu with of course some ancient relic hunting on the side. With a nod to H.P Lovecraft's Cthulhu Mythos, this online slot is bigger and better than ever and you can play it right here at our online casino.
As with all our slot game reviews, you can feel confident that you'll get a great understanding of the slot and whether this is the right game for you. We'll cover everything you'll want to know such as the slot's characteristics, game design, gameplay, and the different symbols you'll encounter. There's quite a bit to uncover for this slot machine, so put on your explorer hat and let's get started.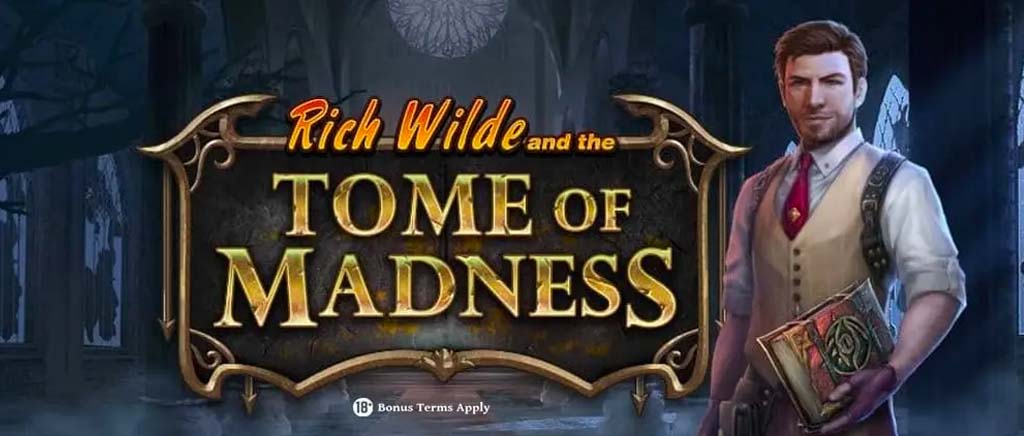 Tome Of Madness Slot Details
Released in 2019, Tome of Madness is a 5×5 slot machine that features cascading reels. Our table below has all of the information you need regarding this title, making it a great way to check out whether the slot is the right one for you!
| | | | | | | | | | | |
| --- | --- | --- | --- | --- | --- | --- | --- | --- | --- | --- |
| Software | Release Date | Game Type | Paylines | Reels | RTP | Volatility | Hit Ratio% | Minimum Bet | Maximum Bet | Jackpot |
| Play'nGO | 2019 | Online Slots | 10 | 5 | 96.59% | High | N/A | €0.10 | €10 | N/A |
Tome of Madness Review
Rich Wilde first started his journey in 2012 by heading over to the jungles in South America to uncover the mysteries of the Aztecs. Later on, in 2014, we see him heading over to India's mountains to uncover their mysterious pearls, and finally, in 2016, we saw him somewhere in an Egyptian Tome, trying to uncover the secrets of Egypt's ancient gods, which turned out to become one of Play'n GO's most popular games. 
Tome of Madness is the final title to come out from this series, and it has some small tweaks that make it stand out from the other titles before it. Let's have a closer look at what makes the Tome of Madness slot machine such a memorable game. 
Game Design
An epigraph taken from H.P Lovecraft's novel 'That Is Not Dead' introduces the slot game, and this novel is in fact the main inspiration for this wonderful slot machine. The visuals of this video slot machine are one of the best we've seen on the part of Play'n GO, with crisp graphics and eerie and adrenaline-fuelled sound effects. The reels are set in an abandoned cathedral with foggy mist encompassing the area, giving the whole online slot experience a haunting feel. Rich Wilde himself stands on the left side of the reel, guiding your every move to help you land those sweet wins. All in all, the game has a very modern and smooth feel to it, and the features embedded in the game will surely keep you on the edge of your seat till the very last second. 
Gameplay
Rich Wilde is perhaps one of the most popular characters in Play'n GO's library of games, and this should come as no surprise seeing as how exciting and rewarding these games can be! Each Rich Wilde slot machine is centered around different themes, and in Tome of Madness, we find ourselves in the mysterious world of Cthulhu, a fantasy world that was created by none other than H.P Lovecraft. Rich Wilde's job here is to discover the Cult of Cthulhu's secrets, which lie in the mythical Book of Madness, and it's up to you to help him find it!
Tome of Madness is a very exciting and immersive slot machine, and it's also one of Play'n GO's most varied titles. With the cascading reels mechanic and plethora of features to unlock, you'll simply never know what to expect next! There are also lots of things happening on the screen after every spin, giving the whole online slot experience a breathless feel to it.  With that being said, we recommend the Rich Wilde slots to anyone who's been playing slot machines for a while as there are many different features to uncover here, and if you are a new player you might get a little confused figuring out how the slot game works. If you're a new player and would still like to try out this game, we highly recommend checking out the title in demo mode first. 
Tome of Madness Symbols
There are eight main symbols in the reels, together with three different wilds and scatter symbols that will help unlock many exciting features while playing. These symbols consist of magical colourful stones, together with skulls, rings, swords, octopus, and Cthulhu's face. The highest paying symbols here is the Octopus amulet and the sword, which pay 100x and 60x your total bet respectively. On the other hand, the lowest ones are the precious stones and pay between 2x to 6x your wager. 
This slot machine has a cascading reels mechanic, this means that when you land a matching formation on the grid, this will be replaced by new symbols so that you can get a chance of earning even more wins with one spin, making for a very exciting gaming experience. To land wins here, you'll need to get at least four matching symbols, however, to get the highest payout, you'll have to get at least ten or more matching formations which can pay out up to 2000x your bet.
| | | | | | | | |
| --- | --- | --- | --- | --- | --- | --- | --- |
| Symbols | 4x | 5x | 6x | 7x | 8x | 9x | +10x |
| Octopus | x3.00 | x6.00 | x12.00 | x24.00 | x48.00 | x75.00 | x150.00 |
| Sword | x2.25 | x4.40 | x9.00 | x18.00 | x36.00 | x45.00 | x90.00 |
| Ring | x1.50 | x3.00 | x6.00 | x12.00 | x24.00 | x30.00 | x60.00 |
| Mask | x1.05 | x2.25 | x4.50 | x9.00 | x18.00 | x22.50 | x45.00 |
| Purple Gem | x0.60 | x0.90 | x1.50 | x3.00 | x6.00 | x6.75 | x9.00 |
| Red Gem | x0.45 | x0.75 | x1.20 | x2.40 | x4.80 | x6.00 | x7.50 |
| Blue Gem | x0.30 | x0.60 | x0.90 | x1.80 | x3.60 | x4.50 | x6.00 |
| Green Gem | x0.15 | x0.30 | x0.45 | x0.90 | x1.80 | x2.25 | x3.00 |
RTP & Volatility
The RTP of this title is ranked at 96.59% and has a high volatility rating. This means that it might take a while to land a win when playing this title, but if you do, you can expect a payout higher than in slow volatility slot machines.
Bet Limits
Bets on the Tome of Madness slot machine can be made from as low as €0.10 to as high as €100. 
What is Tome of Madness's Jackpot (Max Win)?
The maximum win that you can make in the Tome of Madness slot game is 2000x your bet when making a maximum bet. 
How to Play Tome of Madness Slot Online
To start playing the Tome of Madness slot online you'll need to place a wager on the game of at least €0.10. After you've placed your wager by toggling the plus and minus buttons, you're ready to spin the reels! If you've never played the Tome of Madness slot game before, or if you're new to the world of online slots, we highly recommend trying out the title in demo mode before playing for the real thing, as Tome of Madness has many different features to unlock and it's a good idea to see what they consist of before placing a real money wager so that you can get an idea of what the game is like helping you feel more confident with your wager.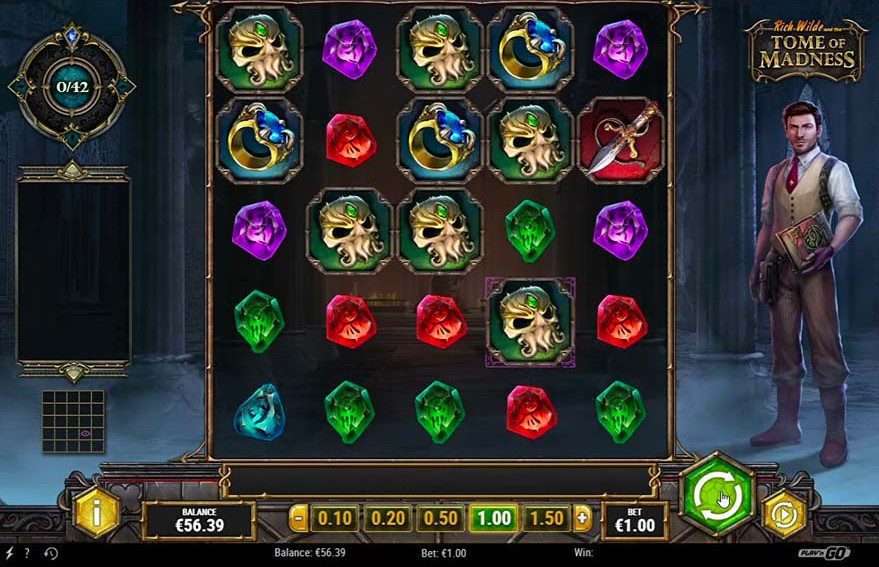 Playing Tome of Madness on Mobile
Keeping up with their name, Play'n GO have ensured that all their titles can be played wherever you are.  This means that if you're a player that's always on the go, you'll be happy to know that you can access Tome of Madness, together with a host of other titles, from the comfort of your mobile or tablet. Playing slots online is a great way to access these games without having to take your laptop with you wherever you are, so you can access a world of games with the click of a button. 
Bonuses in Tome of Madness 
A big part of what makes Tome of Madness so memorable is its plethora of different features and bonuses, promising you a varied gaming experience that you simply won't be able to get enough of. In this part of the review, we'll tell you everything you need to know regarding triggering the different features in this game. 
Wilds
In Tome of Madness you'll find that there are three different wild icons, unlike many other online slots that have one wild symbol in the game. The special wild is the book icon, and when this lands on the reels it will trigger the Portal Effects. The second wild is Rich Wilde himself, also referred to as the Multiplier Wild, and when this lands on the reels all your payouts will be doubled. Finally, there is the Cthulhu mega wild, which moves down the grid to help you land more winning formations. This wild only appears on the reels during the Free Spins round.
Eye Marks
To identify these eye marks, keep an eye out for the purple frame that encompasses certain symbols on the grid. These purple frames can appear anywhere on the grid, and when landing a win on the grid in the Eye Mark location, the eye on the right-hand side of the reel will open and it will add two special wild symbols on the grid after the win is cleared. 
Portal Feature
On the left-hand side of the screen, you'll find a meter bar, similar to other Play'n GO games such as Gemix and Reactoonz. Every time you land a win, the symbols that helped you form that win will be stacked in the meter, and depending on how many of them you collect, you'll trigger different features, as outlined below:
7 symbols will add two wilds to the grid.
14 symbols will add two wilds on the grid and the Abyss Portal Effect is activated if you manage to land a win with the wild.
27 symbols will add two wilds on the grid, and if you manage to land a win with one of these wilds, you'll trigger the Void Portal Effect.
Finally, 42 symbols will trigger the Other World Free Round feature.
Abyss Portal Effect
When this feature is activated, one row or column from the grid will be removed, starting from where the wild symbol is. These discarded symbols will be added to the portal meter, and if this feature removes one of the wilds on the grid, another symbol will be removed from the same symbol.
Void Portal Effect
When this feature is activated, it will select a symbol from the reel and remove all of the symbols like it from the reels. The symbols that were removed will then be added to the portal meter too. 
Respins
There are no respins in this title. 
Multipliers
As previously mentioned, you'll be able to get a 2x multiplier when landing the Rich Wilde symbol.
Free Spins in Tome of Madness
When winning 42 symbols, this will activate the Other World Free Round, and when this happens, you'll be given one Free Spin together with one of the three previously described Portal Effects. Adding onto this, you'll be given an extra Portal Effect each time you collect three winning symbols, up to a maximum of seven. One random Portal Effect will also be activated when a spin doesn't bring you any wins, until they've all been used up. The Free Spins bonus round will come to an end once all the Portal Effects have been used up. 
And that's not all! In the Free Spins round, there will be either 11 or 12 eye marks, and If you manage to form wins on all of these purple frames, the mega wild symbol will be added to the reels. What's special about this wild is that it will move down the grid one row at a time with each cascade and can help you land some impressive wins. 
Tome of Madness Pros & Cons
Pros
Cons
Many different features to unlock
The number of features might be complicated for new players to get the hang of.
One of Play'n GO's most iconic series
High Volatility Slot (For Some)
Max win of up to 2000x your wager
Perfect for both low and high rollers
Play Tome of Madness on Betiton™
Playing Tome of Madness on Betiton is as easy as pie! Simply follow the steps below to get started playing this fantastic title:
First things first, you'll need to create an account by clicking on the 'Join' button on the left-hand side of the screen. Here, you'll be asked to input your personal details such as name, surname, address, and telephone number.
After logging in, you'll need to create your first real money wager deposit by using one of the site's safe banking options. Head over to your account and then click on the 'deposit' button and make a deposit using one of your preferred banking options.
After making your first deposit, you'll be able to activate your Welcome Bonus. This will gift you with 100% match bonus of up to €150 on your first deposit together with 50 Free Spins.
Head over to the Tome of Madness slot machine and place your first wager! You're ready to start spinning those reels!
Tome of Madness Review Conclusion
Rich Wilde and the Tome of Madness
Slot
"The Tome of Madness slot might look like quite a complicated slot machine when you look at all the features, but spinning it a couple of times in the demo mode before placing a real money wager is all you need to get you primed up and ready to join Rich Wilde on his crazy adventures! We simply can't get enough of the Rich Wilde series, and we hope that Play'n GO will keep these slot machines coming in the future."
– Betiton™
Related Slots
As previously mentioned, Rich Wilde and Tome of Madness is just one title out of a series of four exciting online slots, so if you had a great time exploring the mysteries of the Cult of Cthulhu, we highly recommend joining Rich Wilde in his other adventures, such as Rich Wilde and the Aztec Secrets, Rich Wilde and the Pearls of India, and last but not least, Rich Wilde and the Book of Dead, which is one of most famous titles in the series. 
Other Games by Play'n GO at Betiton™
If you had a blast playing Rich Wilde and The Tome of Madness, we recommend checking out the other titles that Play'n GO has to offer which you can play right here at Betiton. Play'n GO is known for creating slot machines that are exciting, entertaining, and visually stunning, so we're sure you'll have a great time trying any other title from this provider. Some of our favorite titles from Play'n GO include Gemix, Reactoonz, and Moon Princess, all of which have a host of different features to uncover together with multiple ways to win!
Frequently Asked Questions about Tome of Madness
Can I try out Tome of Madness for free? 
All our library of online slots can be played for free by hovering over your favourite title and clicking on the demo button! This is a great way to try out the slot game and see how the features work before making your first wager.
Can I win real money when playing Tome of Madness?
All online slots have the potential to land you real money prizes when playing for real money. If you're lucky, Tome of Madness can land you up to 20000x your wager!
What's the RTP of Tome of Madness?
Tome of Madness has an RTP of 96.59%.
What's the volatility of Tome of Madness?
Tome of Madness is a high volatility slot machine, which means you won't land wins regularly here as in low volatility slot machines, but if you do, you can expect a sizable amount.