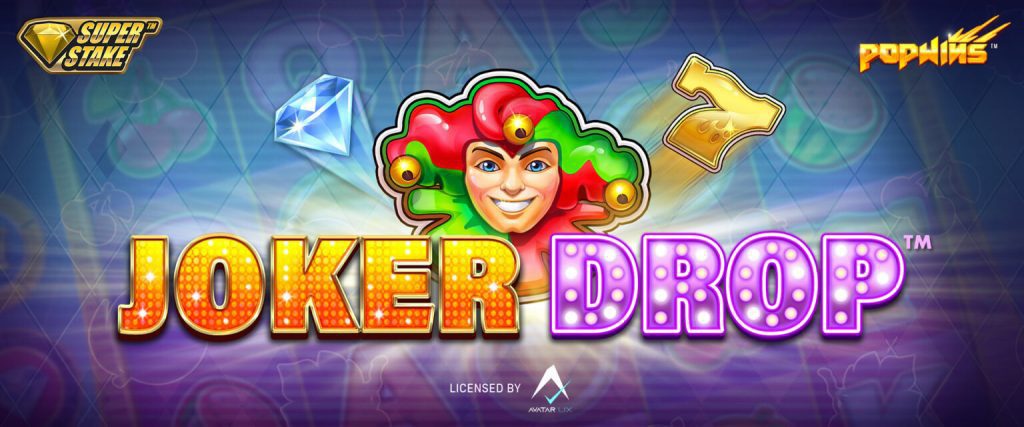 This game is all about the jolly joker and his hilarious antics! If you're looking for a new game to play, why don't you give Joker Drop a go and play along with the joker himself?
Are you looking to have a jolly good time playing a new slot? Joker Drop is a new 4-row, 5-reel slot developed by Stakelogic might be the game for you! This game offers a handful of interesting features that will surely put you in a jolly mood!
Jolly Jokes & Fruity Features: Joker Drop Unique Features
Gamble Drop
Diamond Meter
Coin Meter
Star Meter
Expanding Reels
There are a handful of unique features that you'll come across on this game. The first of which is the Gamble Drop. This is a gamble minigame that you can play whenever you receive extra spins. When you play this game, you can gamble your extra spins for a chance to win more extra spins!
The next unique feature is the Diamond Meter. This is a meter that fills up with special Diamond symbols. Once the meter is full, the game will scatter the Diamond symbols over the reels, which then act as wild symbols. Next up, there is the Coin Meter.
This is another meter that starts being filled up by the special Crown symbols. After the meter fills up, the symbols will be scattered on the reels, transforming into coin symbols. These coin symbols will then reveal cash prizes. Finally, there is the Star Meter.
This is yet another meter. However, instead of being filled up by a particular symbol, this meter is filled up through the Expanding Reels feature. Expanding Reels is when another row is added to the slot's number of rows; this happens every time the player lands a win.
The slot can expand to comprise 7 rows in total on all of the 5 reels. Once this happens, the Star Meter will have reached its full capacity, after which you'll receive 5 extra spins. When you receive these extra spins, the Gamble Drop feature takes place.
Other Features
Super Stake
Wild Symbols
Scatter Symbols
Extra Spins
Gamble Feature
Other than the unique features we mentioned above, there are also a handful of features that you can find on other games. The first of which is the Super Stake feature. This is a feature that you can find on pretty much every one of Stakelogic's games.
Next there are the wild symbols, which are symbols that can substitute for other symbols in the game. The next standard feature is the scatter symbol. This is a special sort of symbol that doesn't need to land in a payline in order to be triggered.
These symbols usually give out a bonus when you land enough of them. In the case of this game, these are more extra spins. Extra spins are plays on a slot that don't require you to wager anything as they're playing. This is why you can also come across them as "free spins".
However, despite the fact that they don't require any wagers as they play out, you'll still be able to receive wins from them. Finally, there is the gamble feature. This is a feature where you can gamble your extra spins to try and receive even more extra spins!
They Say the Joker Is a Gambling Man: Joker Drop Theme
The theme of this game is based around the fruits and joker symbols that land on the reels. This is a theme that pays homage to the slots of old, so any players that enjoy classic slots will feel at home on this game. Other games that feature the joker on our casino include Skywind Group's Joker Goes Wild and Joker Joker by Pariplay. You can also play Fire Joker on our platform, a fantastic game developed by Play'n GO.
Miscellaneous Information
If you're thinking of joining in on the fun and finding out the joker's inside jokes, then there's a couple of things that you should know beforehand. First things first, you should be prepared to stake at least €0.20 for every spin that you play.
However, if you'd like to take things up a notch, you can bet up to €20 per spin if you activate the Super Stake feature. Next, it's good to know that this slot's RTP is theoretically calculated to be around 95.80% whilst its volatility is considered to be high.
Find Out the Joker's Inside Jokes: Play Joker Drop at Betiton™
So, you're prepared to put on a smile and play alongside the joker, huh? Well, you can find this new slot in the online slots section of our casino. There you can not only find other new slots but also plenty of older titles.
Moreover, if you find yourself gaming mostly from your mobile device, then we have some good news for you. Our casino as well as all of our games are 100% compatible with all mobile devices. Thus, no matter if you use a phone, tablet, or whatever, you can enjoy playing slots just the same!