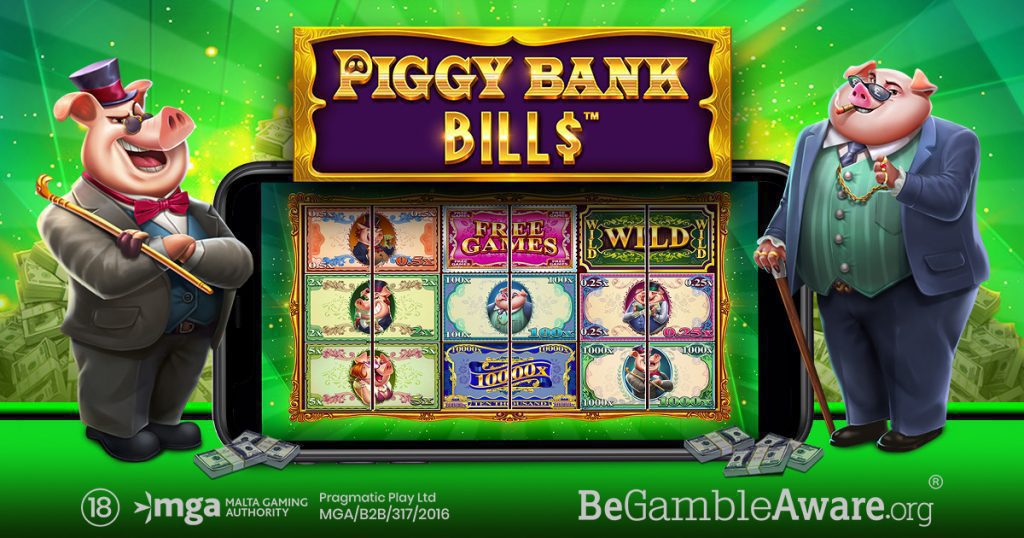 So, you have the itch to become rich, huh? Well, who would blame you? If banking banknotes is your passion, then Piggy Bank Bills has all the features that you need. Why don't you give it a try?
If you're the kind of person that counts your currency, then this just might be the game for you. In fact, Piggy Bank Bills is all about money, so much so that its symbols are none other than paper money! Moreover, this 3-row, 6-reel slot developed by Pragmatic Play has a particularly interesting and absolutely unique mechanic!
How Big Can Your Piggy Bank Become? Piggy Bank Bills Unique Features
Match Pays
Random Modifiers
Whilst there aren't all that many features that this game is offering, they're quite unique in themselves, which makes up for the relative lack of features! The first of which is what we here at Betiton™ are calling "match pays", since there's no official name for it yet.
"Match pays" is Piggy Bank Bills' payout mechanic. Instead of randomly distributing whole symbols over a number of reels, this slot distributes its symbols in halves. Moreover, the 6 reels of this slot are grouped into 3 "pairs".
Essentially, reels 1 and 2 are "coupled" together; same as reels 3 and 4, and 5 and 6. Thus, half a symbol will land on reel 1 and the other half will land on reel 2. Rather than landing combinations of symbols on paylines, you'll need to connect halves on this slot.
Thus, if you manage to land 2 corresponding halves that are facing each other and create a whole symbol, you win! Finally, the other unique feature this game offers is the Random Modifiers feature. This feature awards you 1 of 3 random bonuses during the game.
These bonuses are:
Bonus

: the slot may randomly award you with Free Games.

Win

: after the slot stops spinning, up to 3 losing combinations may be turned into winning ones.

Wilds

: whilst the reels are spinning, the game may randomly add 2, 3, or 4 wilds to the reels.
Other Features
Wild Symbol
Scatter Symbol
Free Games
Multipliers
Other than the unique features we mentioned above, there are also a handful of features that you can find on other slots. The first of which is the wild symbol. This is a symbol that can substitute for other symbols on the reels—with the exception of the scatter symbol.
Scatters are symbols that don't need to land on any payline in order to take effect. What scatters usually do is reward players with a bonus, and that's what they do in this slot. In fact, if you manage to get a whole scatter symbol, you'll receive the game's bonus round: Free Games!
Free Games are plays on this slot that don't cost you anything. However, you can still receive wins during Free Games! Finally, the game also has multipliers. These multiply whatever win they form a part of, potentially giving you greatly amplified returns!
Do You Have the Skills to Get the Bills? Piggy Bank Bills Theme
As you might be able to easily tell, the theme of this game is money, riches, and wealthy piggies! We provide a handful of other games that have a similar theme, including Play'n GO's Piggy Bank Farm & NetEnt's Imperial Riches. Moreover, you can also play the classic Piggy Riches by NetEnt on our casino!
Miscellaneous Information
Before taking the plunge and embarking on your journey to become richer than you can ever imagine, it might serve you well to know a thing or two about this slot. First things first, you should know that the volatility of this slot is considered to be high.
Moreover, if you wish to begin playing this game, you should be prepared to stake at least €0.20 per spin. If you wish to go higher than that, you can bet up to €100 per spin. Finally, the theoretical RTP of this slot is calculated to 96.50%.
Scratch the Itch to Become Filthy Rich: Play Piggy Bank Bills at Betiton™
So, you're thinking of playing this slot, huh? Then you can find it waiting for you at our online slot machine category. Moreover, if you're interested in other games, our video slot section is full of fantastic titles, new and old, waiting to be played!
Finally, we have some good news for our mobile gamers: Piggy Bank Bills is 100% compatible with all mobile devices! Moreover, you'll also be happy to know that our entire casino has been optimised for mobile use, no matter what your device is!