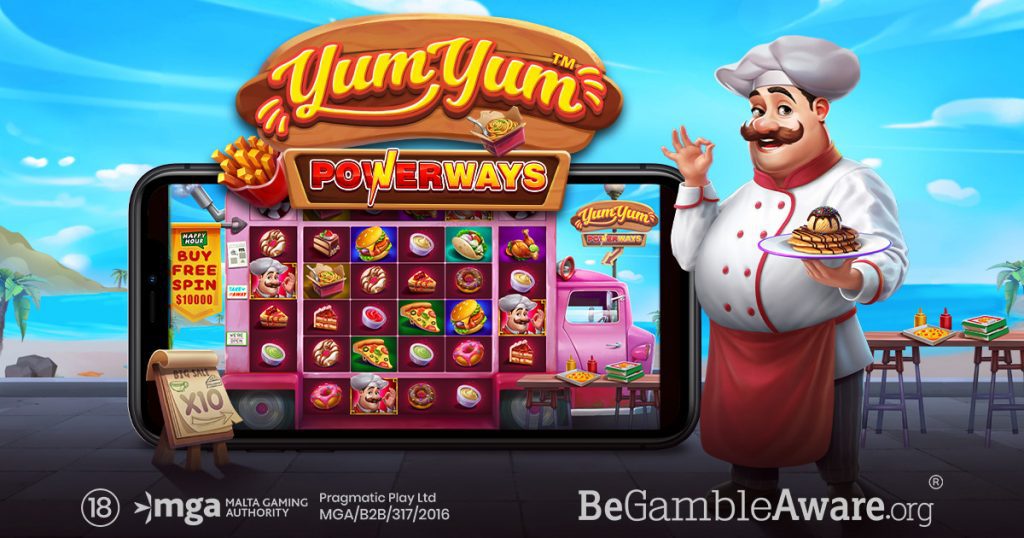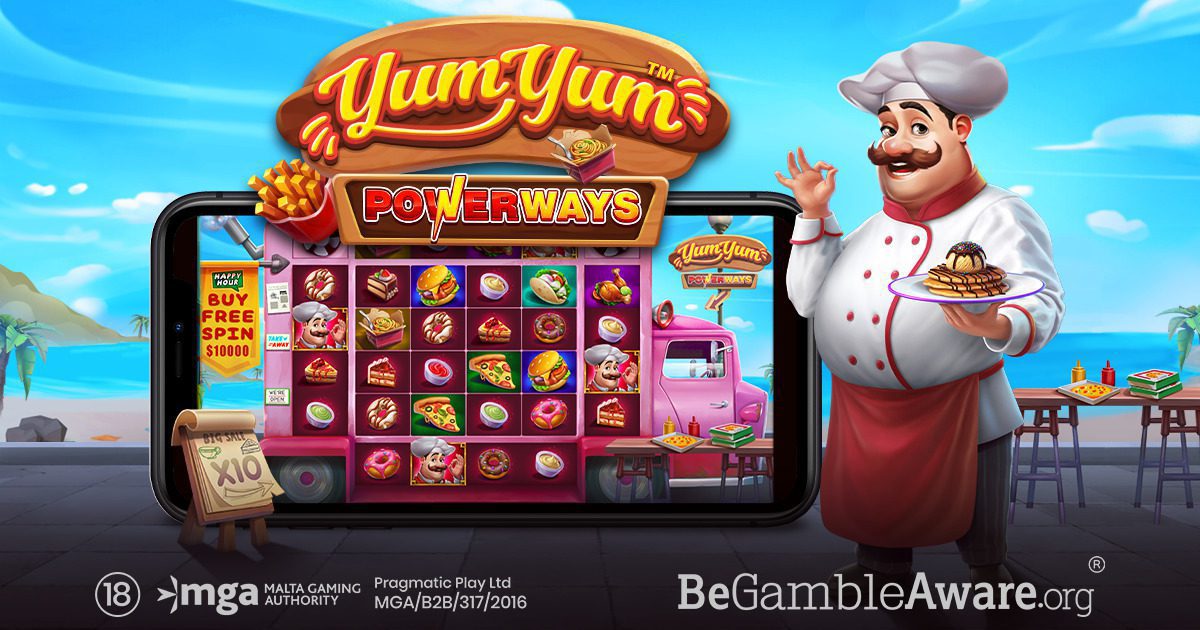 The Yum Yum Powerways fast-food truck has rolled up to Betiton™, looking for any new customers it might find on our platform! So, what do you say? Fancy a meal?  
One of the newest acquisitions that we've made on our casino is Yum Yum Powerways, an interesting game developed by Pragmatic Play. This is a slot that provide 6 reels and 6 rows—however, not all of the reels have the same number of rows.
In fact, owing to this slot's unique arrangement and winning system, reels 1 and 6 of this slot only have 4 rows. That's because the slot's "main" reels are its centre ones, creating a 4×4 layout. However, 2 other reels and 2 other rows surrounds this 4×4 layout.
These other rows and reels have a significant role to play in the way the slot works. We'll actually be explaining in more detail how this system works in the context of the slot, so be sure to read on. We will also be going over what makes this slot worth playing!
Pizzas, Burgers, Tacos—You Name It, We Got It: Yum Yum Powerways Unique Features
Winning Symbol Replacement Feature
Powerways
As we've said, this slot offers an entirely new and unique mechanic when it comes to its winning system. However, the first feature we'll be looking at is the Winning Symbol Replacement Feature. In essence, it works much like cascading reels.
In other words, winning symbols are removed from the slot and replaced with new ones. This can potentially grant further winning combinations. The unique feature, on the other hand, is the Powerways mechanic, which Pragmatic Play innovated.
Firstly, as we mentioned in the previous section, the slot has a 4×4 layout. 2 side reels and 2 side rows surround the 4×4 slot, creating a rather unique arrangement. But what's the purpose of this? Well, it means that the slot calculates wins every which way!
In other words, rather than calculating wins from left to right, as is the tradition, the slot calculates wins from all 4 of its directions. Moreover, the slot calculates wins an "All Ways Pay" system, meaning that paylines don't exist on this slot.
This means that you can receive wins from every side of the slot, with no need to land symbols on specific paylines. Needless to say, this creates an interesting winning system in which multiple wins can be awarded from multiple sides, making for an entertaining slot!
Other Features
Wild Symbol
Scatter Symbol
Extra Spins
Gamble Feature
Multiplier
Cascading Reels
Other than the unique features we mentioned above, this slot provides a handful of standard features that can be found on other games. The first standard feature is the wild symbol. This is a symbol that substitutes for other symbols on the slot.
However, this is with the exception of the scatter symbols. These are symbols that need not form part of a winning combination in take effect. When enough scatters land on the slot, you will be rewarded with extra spins, which are the slot's bonus round.
Extra spins are plays on an online slot machine that don't cost you anything! When you win the extra spins round, you'll also be prompted on whether you'd like to gamble for a chance of winning more extra spins. Another feature is the multiplier.
Essentially, this multiplies whatever win you receive by a certain factor. The multiplier increases with every win you land. Finally, there's also the cascading reels feature. Essentially, when you land a winning combination, the winning symbols are replaced by other symbols.
Food, Glorious Food! Theme of Yum Yum Powerways
The theme of this video slot title is food—particularly, fast food. Who doesn't enjoy a good burger from their favourite fast food truck? Or a delicious slice of pizza? However, if you prefer other kinds of food, you can rest assured that we have other food-themed slots on our platform!
In fact, we offer healthier titles like NetEnt's Food Shop and Inspired Entertainment's Super Hot Fruits Megaways, which is another new slot on our platform. We also offer spicy alternatives, like Pragmatic Play's Chilli Heat Megaways. You're simply spoilt for choice with these games!
Miscellaneous Information
Firstly, it might serve you well to know the RTP and volatility of this game. Thus, the theoretical RTP of this slot is calculated to be 96.43%, whilst the volatility is high. Finally, if you wish to enjoy the fast food of this slot, you should be prepared to stake at least €0.20 per spin. However, if you prefer betting bigger amounts, you can wager up to €100 per spin.
The Yum Yum Powerways Food Truck Has Parked at Our Casino: Play at Betiton
If the smell of fast food entices you enough to play this game, then you can find it on our selection of online video slots titles. Other than this new slot, you can also find other new video slots there as well as all of our other available slot machines.
However, if you happen to be more of a mobile gamer or don't find much time to use your computer, then you'll be happy to know that all of our games are mobile-compatible. Moreover, even our platform has been optimised for mobile play, which means that you can navigate it with ease.