Also known as 21, blackjack is one of the most popular casino games in Ireland. You will not miss out on it at any casino in the country, be it online or land-based. Perhaps, the reason blackjack is so popular is that it is simple to play and doesn't rely on any complicated strategies to execute it.
In Ireland, there are countless variations of blackjack, making it enjoyable because gamblers can play different versions of it. One thing that plays a critical factor in the handling of this game is the rules. Below is a comprehensive blackjack guide from Betiton.
Learn the Rules of Blackjack Before You Play
Aim for your cards to be as close to 21 as possible.
If you go over 21, you lose.
Ireland is a country with many blackjack lovers. For that reason, there are a lot of casinos where gamblers can play this game. The Irish government has actually made it easier for online casinos by enacting good laws to govern them.
Due to the wide range of casinos, there are those with a good track record and better services compared to others. Sometimes, gamblers might have a difficult time choosing the correct online casino to play blackjack. All of these casinos have their own pros and cons. Make sure to pick a safe one after you learn how to play blackjack.
Want to Play Blackjack?
Find a wide range of Blackjack games and live a unique gambling experience at Betiton
Play Now
What Are the Card Values in Blackjack?
Everyone wants to win in blackjack, it is everyone's wish when playing the game. What most gamblers don't understand is that you should have a basic strategy for you to have a good chance of winning. Playing this game can be compared to playing at any land-based casino in Ireland.
As much as the basic rules of each casino game remain constant across casinos, each specific game has its own unique rules that might be different to some extent. Playing the game does not need a lot of training for you to understand.
What Are the Betting Rules?
In Ireland, blackjack tables are the same across the board, whether you are playing it virtually or in a live casino. The table on virtual game mode is, however, relatively smaller. Any gambler knows that the blackjack table is semicircular and is usually covered in the green felt. Its design makes it look more appealing than similar games.
As a player, you should have a working blackjack strategy if you want to win on this table. It takes skill and luck to win a substantial amount on any blackjack table. There are markings on its surface where playoff levels are printed.
What Are the Chip Values?
This is a game guided by rules and principles. As a good gambler in Ireland, you should familiarise yourself with some of the outlined rules regarding this game. The basic rules of this game are very simple. They can be summarized by the one rule that says 'reach, but don't exceed the value of 21'.
That is where the game got its '21' name from. There are other more complex rules that can be challenging to understand especially if you are not good with legal terms. There are also different rules for counting cards.
Learn All the Playing Options
The blackjack game in Ireland comes in numerous versions giving players a wide range of options to choose from. The most widely practised options include hit/stand, doubling down, split, insurance, and surrender. The game simply revolves around cards. And how can players get these cards?
Every gambler is given two cards at the beginning of the game; it is simply fair and straightforward. In the majority of casinos, cash is not used in making bets. Players must use casino checks or "chips". Like most casino games, winning blackjack requires accurate mathematical choices and odds. Continue reading to learn more about blackjack rules.
Hitting rules
The most common decisions made by a player during the game is whether to "hit", or "stand". For every dealt hand, this is a choice that every blackjack player must make. The first option is hitting and it means that you want to draw another card to the hand.
If a person decides to hit, the dealer deals another card to face them face up. A person should consider hitting and follow these tips in blackjack if they think that taking another card will give them more chance of getting closer, or equal, to 21.
Standing rules
Just like the hitting rules, standing rules are also crucial in blackjack games. Here, a player has an option of standing which means sticking to the current hand value of their cards. You should stand if you think that your present hand total is good enough and there is a possibility of winning against the dealer's hand.
Sometimes, gamblers might get emotional and lose control of themselves. You can use a blackjack trainer to practice keeping your emotions intact. Players are required to observe all the ethical rules and behaviour when playing this game.
Pair splitting rules
Pair splitting rules are essential when it comes to the running of blackjack simulator. When you have two cards of the same value, a Split button appears. The cards can be divided into two hands, and each hand gets played separately, meaning that the player will take cards to their first hand until they stand or bust, and then go on with the next hand.
Both hands will be played out as usual, and the original bet will be replaced by the new hand. After you've been dealt another pair, some casinos allow the player to split the hand again.
Doubling down rules
The double down rule is another important rule in this game. After a person has been dealt their first 2 cards (any value), they will have an option to "Double Down". You may double your original bet only if you are absolutely certain that your hand will beat the dealer's.
Once you choose this option, your bet amount is automatically doubled and you'll be dealt one more card. This free blackjack approach is important in letting gamblers choose the way and how they want to play. It helps in making the game fair and enjoyable just the way you like it.
Surrender rules
Surrender in any given scenario is the best option if there is no way out. This idea also applies in the blackjack game. Knowing when to surrender and how to surrender during a game of blackjack is very crucial. Surrendering in blackjack refers to giving away your hand following the initial deal when there is little chance of you winning the hand.
Strategies include early surrender, which happens when you opt-out of the hand in time before the dealer checks for blackjack. The late surrender blackjack involves surrendering your hand, translating to losing half your bet after the dealer checks for blackjack.
Insurance in blackjack
Insurance in blackjack refers to the side bet offered in instances when the dealer's upcard is an ace. In this case, the player is allowed to bet half of their initial wager. When the dealer's second card turns out to be queen, jack, king or ten, it will result in the dealer hitting the blackjack (21) with the insurance being paid up 2-1 in favour of the dealer.
The player is given a chance to have a claim of the winnings of their first bet when the dealer hits the blackjack during the game.
Even money
Even money in blackjack sometimes refers to offering insurance to the player during the game. Even money applies best in cases when you are almost losing the game, meaning the dealer has hit the blackjack (21), which usually pays off at 3- 2 in many games.
If it happens that the player and the dealer both have naturals, then it is a push, meaning "even money." This scenario gives you the chance to place an insurance bet, thus, helping you secure your initial bet in case the game flips to the dealer's advantage.
What are the Dealer's Playing Rules?
There are certain rules that the dealer has right to in blackjack. The basic rule in blackjack applies to both the player and the dealer stating that they both aim to score close to 21 but without exceeding 21 (blackjack). Cards 2-10 are worth their face value while the jack, king and queen are all worth 10 points each.
A common rule is that if a dealer reaches a value of 17 on their cards, they generally do not go anywhere beyond that point, as it poses a risk for the casino to "bust" its hand.
Winning and Losing Hands
In the blackjack game, the player's or dealer's hand can include only one of the following possibilities: the blackjack (21), numbers between 20 through 16 or less, or a bust. A bust essentially means that you have lost the game while a blackjack hand translates to either a tie in the game or bonus winnings of up to 1.5 times your initial wager.
Although the game itself is simple, there are various possibilities and outcomes when playing blackjack so it is advisable to practice different scenarios on the free online trainers before playing for money.
Different Types of Blackjack
Blackjack is dubbed the best card table game with various types available. Some of the notable versions of blackjack include Classic Blackjack which is the most popular and widely played, involving one or up to 8 decks of cards.
Progressive blackjack is similar to the standard blackjack game except for winning the increasing jackpot. The European blackjack comes with a difference in how you handle the cards during the game. Other types of the game include Atlantic City Blackjack, Spanish 21, Blackjack Switch, Pontoon, Live Blackjack, Vegas Strip Blackjack, and the Super Fun 21. You can try many of those at Betiton.
FAQ
Once you're dealt with the cards, ensure your cards total is closer to 21 but does not exceed the limit.
As a player, your hand should not exceed a total of 21.
If your total exceeds 21, you get busted, and the house takes your bet.
Ready to Play Blackjack?
Play your first Blackjack games and discover the fun of online casino at Betiton
Play Now
Blackjack related articles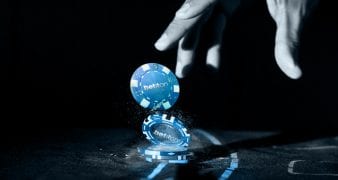 Learn the basic Blackjack strategy in Ireland
The basic strategy offers a blackjack guide for Irish players by demonstrating the best probable moves you can make in a certain circumstance according to your hand and the up card of the dealer. The basic strategy contains numerous variations which provide you the opportunity to select the best one. The basic strategy differs depending […]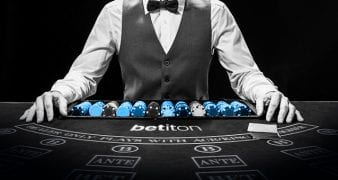 What is a Blackjack Strategy in Ireland?
The Blackjack game is one of the simplest casinos games in the gambling industry. In a Blackjack game, the player competes against the house rather than competing against other players. The aim of the game is to attain a hand higher than the dealer's hand without going over 21. As Blackjack beginners, you can use […]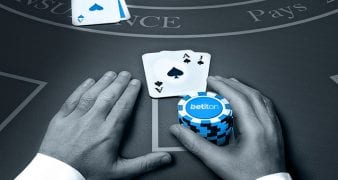 How to play Blackjack Online in Ireland?
Blackjack is a card game popular among Irish players. The game is typically played between 2 and 7 players against a dealer. The objective of the blackjack game is for Irish players to get a hand that is higher than that of the dealer and less than 22. There are different types of blackjack variants […]