Last Updated: 20-06-2023 16:55
Blackjack is a popular table game featured in both land-based and online casinos. Contrary to some people's belief, blackjack is easy to play and you can learn how the game works in minutes. In this guide, we explain the basic game rules, how to play blackjack, and some key things to look out for to improve your odds of winning. We have written this blackjack guide in a simple and engaging way so that you will learn something from it whether you are a newbie or a pro blackjack player.
Playing blackjack in 6 steps
Regardless of the variation of blackjack that you are playing, the basic rules that apply are usually the same. Blackjack is played using a deck of cards and the game is played between the players and a dealer. The aim of the game is to have a hand which is better than the dealer but not more than 21. Before you can play blackjack, there are six essential steps you need to follow and we will explain these steps in the next few sections.
Buy chips
The first step in any blackjack game is to buy chips. Chips come in different values and colours, which signifies how much they are worth. In a land-based casino, players need to go to the casinos counter with cash to buy these chips. However, the purchase of the chips is automatic in online casinos. The common values of blackjack chips are €1, €5, €10, €50, €100, and €500. We advise that you familiarise yourself with blackjack basic strategy, as this can improve your chances of winning the game.
Place a wager
Once you've bought the chips, the next thing is to find a blackjack table and place your wager. In land-based casinos, you may need to wait for a blackjack table to be free before you can join the game. However, you don't need to wait at all when you play online at Betiton. Once you visit the lobby, you can search for the blackjack variation you wish to play and load it. You can even play the game in demo mode and test your blackjack strategy before wagering real money.
Dealer deals cards to players
After placing all bets, the dealer begins to deal the cards. Two passes will be made around the table beginning from his left side so that all players, as well as the dealer, will get two initial cards. The dealer will then flip one of his cards to reveal the value. This is called the "dealer upcard". Players should note that in some blackjack variations, the dealer will get only one initial card. You can use the counting cards strategy when playing at land-based casinos to improve your hand.
Decide how to play your hand
Once the initial cards have been dealt and the dealer's upcard is revealed, players have a couple of actions they can take. The player action you take should be based on the value of cards you have and your perceived value of the dealer's card. Additionally, you need to be aware that the player action you choose will determine your odds of winning in the game. In most blackjack variations, there are five actions available for players to make. These actions are:
Stand
Hit
Double down
Split
Surrender
Stand is one of the most common actions that players use in blackjack. When you use the stand option, what you are simply telling the dealer is that you don't want any additional cards added to your hand. This option is usually used when you see that an additional card may cause your hand to burst (exceed a total value of 21) and lead to you losing. You can check out some tips on when you should use the stand option on Betiton.
Hit is another popular player action that you can use when playing blackjack. It is the opposite of the stand option and is used to request an additional card from the dealer. The Hit option is best to use when the value of your initial cards is low and you want to improve it. If you are new to blackjack, one way you can learn the moves is by using a blackjack trainer. This will allow you to know when it is right to make a move or not.
The Double Down option allows players to double the amount wagered during a blackjack game. When the dealer reveals his initial cards and you perceive that you will have the better hand, you can use the double down option to increase your bet by 2x. Thus, if the play continues and you have the best hand, you will get to win more money. You can use a blackjack simulator online to learn how to play the game and also test different blackjack strategies.
Split is a special option in blackjack which can only be used when your initial cards are a pair. When you are dealt a pair, you can decide to split the hand into two. This way, you will stand a chance of winning on both hands. However, one thing you need to know about the Split option is that when you use it, your initial wager becomes doubled. With Betiton free blackjack games, you can explore the different hands for free without paying a dime.
Some blackjack variations allow players to use the Surrender option. This option allows players to fold when they perceive that their hand is bad. By surrendering, a player will only lose half of his initial wager instead of the whole amount. One important thing that you need to note is that the Surrender option is only available for the initial cards. Thus, if you have taken any other actions, such as Hit, Stand or Double Down, you will not be able to use the Surrender option.
Dealer plays hand
Once you've chosen your player action, the dealer will then reveal his second card. In some variations of the game, the dealer may have to deal himself the second card. If the dealer's hand is low, he can also Hit and add an extra card. Once the playing actions are used, the value of the players' hand is compared with that of the dealer. Whoever has a blackjack (value of 21) or a hand with the highest values less than 22 wins the game.
Blackjack Payouts
The payouts you can get from blackjack normally depend on the variation of the game. In standard blackjack, the payout is usually 3:2. A few variations of blackjack offer a payout of 2:1, while some offer 6:5. One other important thing you should bear in mind about blackjack payouts is that they are affected by the rules of the game. As an example, when you insure your bets, you will get a payout of 2:1, while Even Money bets pay out 1:1.
Want to Play Blackjack?
Find a wide range of Blackjack games and live a unique gambling experience at Betiton
Play Now
Special situations
Besides the standard player actions discussed in previous sections, there are special situations that may allow players to use other options. As usual, this comes down to the variation of blackjack you are playing. The good thing about playing at Betiton is that we include the rules of each variant in the information section of the game. This way, you can know what to expect in the game. In the next few sections, we will discuss some of the special situations in blackjack games.
Insurance/Even Money
The insurance option can be used when the dealer's upcard is an Ace. An Ace in blackjack can either be valued at 11 or 1, depending on the hand. Taking insurance means that you're betting that the dealer will have a blackjack. In cases where you are dealt a blackjack and the dealer's upcard is an Ace, you may be offered Even Money. When you take Even Money, you'll be paid back your only initial wager. As a basic blackjack strategy, players should avoid taking Insurance and Even Money.
Non-insurable dealer blackjack
There are situations where players may not be offered the insurance option and the dealer will have a blackjack. When the dealer's upcard is 10, he'll check the hole card before allowing players to play their hand. If the dealer's hand forms a blackjack after checking the hole card, then he wins all bets except for players that have a blackjack. If both dealer and players have blackjack, a "push" occurs. This means that the player gets to keep his money but it will be used in the next game round.
Dead hand
A dead hand refers to a situation where players' hands burst before the dealer's hole card is revealed. When this happens, the dealer shows his hole card just for everyone to see. But the game round is ended, as the dealer already won the hand. The dealer will then take all the cards from the blackjack table and put them in the card tray so that a new game round can begin. The process is the same whether you are playing live blackjack or playing at the real table.
Side bets
While insurance is the most common side bets offered in blackjack, other variants allow players to place several other side bets. However, these bets are usually placed at the same time as the main bet. You can place a side bet on getting pair as initial cards or on the dealer's hand bursting. Blackjack tables that offer side bets have specific rules that guide how they work, so we recommend that you should always check the rules first before placing these bets.
FAQ
To win, you need to have a hand better than that of the dealer but less than 22.
This depends on the variation of blackjack. In standard blackjack rules, you can hit as many times as you like, as long as the total hand value is not more than 20.
Since a king and queen are considered the same value of 10, you can split them in a blackjack game.
Ready to Play Blackjack?
Play your first Blackjack games and discover the fun of online casino at Betiton
Play Now
Blackjack related articles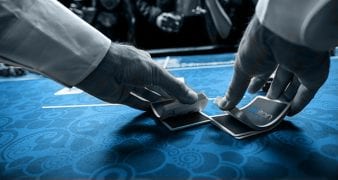 How Blackjack Counting Cards Works in Canada
Card counting is one of the important techniques that can be used in the game of blackjack. The strategy of card counting is very easy to understand. Blackjack card counting is a system or strategy that can be used to determine if the next hand will be of advantage to the dealer or the player. […]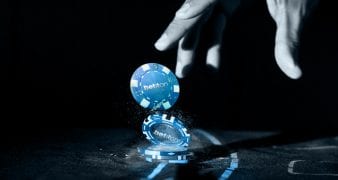 Learn the Basic Blackjack Strategy in Canada
Blackjack is a casino game that is also strikingly dependent on skills. Unlike any other casino game, the decision you make when playing blackjack determines how the hand plays out. So, do you stand? Or do you hit? Should you double down? Or is the hand you have the correct one for you to split? […]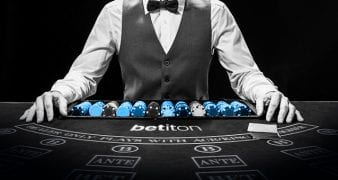 What Is a Blackjack Strategy in Canada?
In this blackjack guide, you will find key advice for developing an intelligent strategy that will help you towards the winning game at Betition. Many players believe that blackjack is a matter of luck, but without a proper strategy, how can they expect to play a winning hand? It is true that chance can win […]